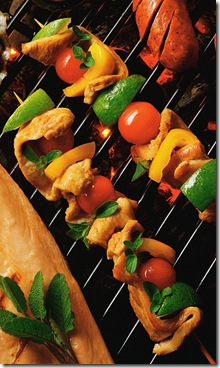 O.K., is it "kebab" or "kabob"? According to Wikipedia, it can be "kebap, kabab, kebob, kabob, kibob, kebhav, kephav." The history of the dish is rather interesting, so take a peek at the entire entry for "Kebab" when you have a sec.
My husband is a huge fan of the German-style döner kebab, which he ate a lot of when he lived in Berlin as a student. Basically, it's fast, greasy, delicious and cheap take out food you eat around 4 a.m. on your way home after a hard night of drinking.
But let's turn our attention healthy Weight Watchers kebabs (their preferred spelling) instead. This dish comes from their cookbook, Weight Watchers Grill It! 150 Flex & Core Plan Recipes
.
What I especially like about this dish is that it's inexpensive to make and instead of more traditional kebab veggies like tomatoes and zucchini, it uses apples.
Curry-Marinated Chicken Kebabs
Makes 4 servings
Ingredients:
1/2 cup apple juice
1 tablespoon + 1 1/2 teaspoons fresh lemon juice
1 tablespoon honey
2 teaspoons olive oil
1 teaspoon curry powder
1/8 teaspoon salt
Pinch freshly ground pepper
3/4 pound skinless boneless chicken breast, cut into 24 pieces
3 medium apples, cored and cut into 48 (3/4-inch) pieces
2 cups hot cooked white rice (substitute brown rice if possible) 
Directions:
Prepare the marinade
To make the marinade, combine the apple and lemon juices, the honey, oil, curry powder, salt, and pepper in a zip-close plastic bag. Add the chicken pieces.
Squeeze out the air and seal the bag; turn to coat the chicken. Refrigerate, turning the bag occasionally, at least 30 minutes or up to overnight. Remove the chicken pieces from the marinade.
Pour the marinade into a small saucepan and boil, stirring often, for 3 minutes.
Heat the grill
Turn on the grill and spray rack with nonstick spray. You want a medium fire with indirect heat. If using a gas grill, light only one burner, place the food over an unlit burner, close the lid and grill.
For charcoal grills, mound the charcoal on one side of the grill and cook the food over the unheated side of the grill.
Prepare the skewers
If using wooden skewers, be sure to soak them in water for 30 minutes before preparing them.
Thread 6 chicken pieces onto each of 4 (12-inch) metal or wooden skewers.
Thread 6 apple pieces onto each of 8 more 12-inch metal or wooden skewers.
Brush the apple skewers with the cooked marinade and place the chicken and apple skewers on the grill rack.
Grill, turning occasionally, until the chicken is cooked through and apples are tender, 5-7 minutes.
Serve kebabs with the rice.
One serving is 1/2 cup white rice, 1 chicken kebab, and 2 apple kebabs
289 Cal, 3 g Fat, 1 g Sat Fat, o g Trans Fat, 47 mg Chol, 116 mg Sad, 47 g Carb, 3 g Fib, 20 g Prot, 29 mg Calc.
Weight Watchers POINTS = 5