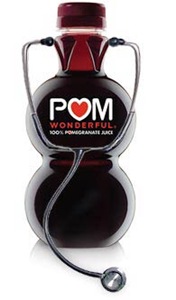 According to the POM Wonderful website, pomegranate juice:
All good stuff for your health, but we wouldn't be eating pomegranates if they weren't so tasty. Luckily, POM Wonderful makes it easy to enjoy the juice without the mess of dealing with the seeds.
So when POM asked me to review their product (and sent a sample case of eight small 8 oz. bottles), I was happy to oblige since I was already a customer. In the past year, I bought their juice to make:
A pomegranate juice smoothie
But now the challenge was to make a pomegranate smoothie that fit in with the Weight Watchers Momentum plan and was high in fiber and protein to keep me full until the next meal.
My first concoction was a blend of juice, yogurt and ice cubes, which turned out too watery. Then I thought it would work better if the juice was already frozen, similar to the frozen berries I use to make smoothies. Here's the result:
This Mama's POMegranate Smoothies
Makes 1 serving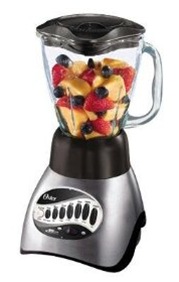 Ingredients:
8 oz. POM Wonderful pomegranate juice (3 POINTS)
1 cup plain no fat Greek yogurt like Oikos Organic (3 POINTS and 22 g protein) or 1 cup no fat plain yogurt (2 POINTS and 11 g protein)
1 scoop of vanilla whey protein powder (2 POINTS)
Directions:
Fill an empty ice cube tray with POM Wonderful pomegranate juice and freeze overnight or until the juice has frozen.
Pop out pomegranate ice cubes and place into a blender along with yogurt and protein powder. (I use a Oster 6812-001 Core 16-Speed Blender with Glass Jar, which I love. It isn't as cute as the Oster Beehive Blender , but it's more affordable and still attractive.)
Blend until ice is pulverized. Pour into a tall glass and serve.
Weight Watchers POINTS = 7 or 8 depending on how prepared
Variations:
If you don't have protein powder, you can use vanilla flavored no fat yogurt or vanilla Greek yogurt instead. Remember to adjust the points.
If you want to cut down on calories, omit the protein powder or add enough ice cubes to make this recipe into 2 servings. Drink one and share the other with a friend.
For the kids (or yourself) sneak in a teaspoon of ground flaxseed or flaxseed oil for extra Omega-3s. Remember to add a couple of POINTS to your total.