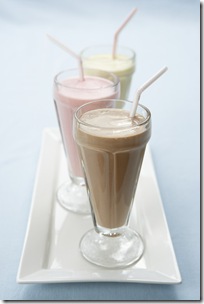 Fresh fruit, frozen fruit, premade smoothie mix. Ice cream, yogurt, milk, tofu, soymilk. Nut butters, fruit juice, nutritional supplements, and honey.
How many ways can you a make a smoothie?
Here are a few ideas from two posts of mine at other blogs:
What's your favorite type of smoothie? Do you make them at home or do you buy them to go? Do you prefer them healthy or decadent?