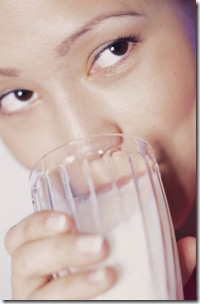 Did you know that kids don't drink enough milk to prevent fractures? That nine out of 10 teenage girls fail to get enough of the calcium they need? And 50% of women over 50 suffer from osteoporosis?
That's why it's so important to get your entire family to drink milk and eat dairy products like yogurt. You can learn more about osteoporosis prevention in my post at This Mama Cooks! Reviews, Got milk this summer?
Smoothie recipes
Looking over the whymilk.com website, I noticed several delicious smoothie recipes including this one using avocado. Did you know avocadoes contain:
81 micrograms of the carotenoid lutein, which some studies suggest may help maintain healthy eyes
nearly 20 vitamins, minerals and beneficial plant compounds that can contribute to the nutrient quality of your diet
76 milligrams beta-sitosterol, which a natural plant sterol which may help maintain healthy cholesterol levels

Plus they're delicious! (For more on avocadoes, check out avocado.org.)
Avocado-Mango Smoothie
Makes 4 servings
Ingredients:
1 medium ripe avocado
1 cup frozen mango chunks
2 cups fat free milk
1 (8 ounce) container vanilla low fat yogurt
1 teaspoon chopped fresh mint leaves
2 teaspoons lime juice
1 teaspoon lime zest
1 tablespoon agave syrup (or substitute simple syrup or honey)
1 cup (more or less as needed) ice cubes
Directions:
Remove flesh from avocado, cut into coarse chunks.
Place into blender along with mango, milk, yogurt, mint, lime juice and zest, agave syrup and ice cubes.
Process until smooth.
Pour smoothie into tall glasses and serve.
Tips to low calories and fat:
use a sugar substitute like stevia instead of agave syrup
use plain, no fat yogurt with a teaspoon a vanilla extract if you cannot find no fat vanilla yogurt
thin out a bit by adding more ice cubes
Nutritional information:
235 calories; 8 g fat; 1.5 g saturated fat; 5 mg cholesterol; 8 g protein; 35 g carbohydrate; 5 g fiber; 105 mg sodium; 200 mg calcium (20 DV%).
Weight Watchers POINTS = 4