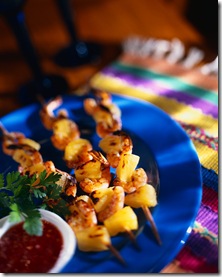 Last week I was tweeting with my friend Michelle Lamar, also known as White Trash Mom, that food on a stick like the kind you get at carnivals and country fairs is the ultimate in white trash cuisine.
Well, food on a stick doesn't have to be fried and unhealthy. It can be fun, low in Weight Watchers POINTS, and nutritious. So this week, I'll be sharing some delicious "food on a stick" ideas with you.
Our first food on a stick recipe with shrimp, scallops and vegetables, comes from eatbetteramerica.com, a handy online source for healthy recipes (complete with nutritional info) from the folks at General Mills in partnership with Bell Institute of Health and Nutrition and Rodale.
Grilled Shrimp and Scallop Kabobs 
Makes 4 servings
Ingredients:
1/4 cup lemon juice
2 tablespoons olive or canola oil
1 tablespoon chopped fresh thyme leaves or 1 teaspoon dried thyme leaves
1/4 teaspoon salt
1/4 teaspoon pepper
3/4 pound sea scallops
12 uncooked large shrimp in shells
8 medium whole fresh mushrooms, (about 6 ounces)
8 cherry tomatoes
1 medium zucchini, (about 1 inch in diameter), cut into 1-inch slices
Directions:
Heat coals or gas grill for direct heat.
Mix lemon juice, oil, thyme, salt and pepper. Cut scallops in half if over 1 inch in diameter.
Thread scallops, shrimp, mushrooms, tomatoes and zucchini alternately on each of four 10-inch metal skewers. Brush with lemon juice mixture.
Grill uncovered 4 inches from medium heat 10 to 15 minutes, brushing frequently with lemon juice mixture and turning once, until scallops are white and shrimp are pink and firm.
Tips and variations:
Leaving a little space between the shrimp, scallops and vegetables will help your kabobs cook more evenly.
Veggies and meat cook differently – vegetables take longer and meat or seafood cooks up quicker. To avoid having undercooked vegetables or overdone meat, make up "meat only" and "veggie only" skewers. When one skewer is done, wrap it in foil and put it in a warm oven until the rest of the dish is ready.
Experiment with different vegetables – onions, peppers, mushrooms. Or make up a few extra veggie skewers as a side dish.
Use fruit! Shrimp goes great will grilled fresh pineapple. Try using peach, too, and a sweet barbeque sauce.
Scallops too expensive? Just use shrimp or substitute chunks of chicken.
Nutritional Information for one serving:
Calories 160 (Calories from Fat 70); Total Fat 8g (Saturated Fat 1g, Trans Fat 0g); Cholesterol 60mg; Sodium 310mg; Total Carbohydrate 6g (Dietary Fiber 1g, Sugars 3g); Protein 16g
Weight Watchers POINTS per serving = 4