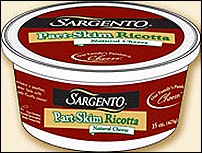 After the wet noodle incident, I still have two small containers of part-skim ricotta. Looking over Weight Watchers' online recipes, I found that most call for fat free ricotta (1 cup = 4 POINTS). So, I'll have to add a POINT or two depending on the amount used since part-skim ricotta had double the POINTS of no fat (1 cup = 8 POINTS).
Here's a recipe for a pizza that I know the kids will like, too. This seems like a quick and easy dish to make on a night when you don't want to do a lot of cooking.
You can also can adjust it for individual tastes. (Don't like tomatoes or spinach? Substitute other vegetables instead.) I'll be using Healthy Grain Multi-Grain with Flax Flatout Flatbread instead of whole wheat pita, too.
Spinach, Tomato and Feta Pizza
Servings:  4
Ingredients:
4 large wheat pitas
1 cup part-skim ricotta cheese
1/2 tsp garlic powder
10 oz chopped frozen spinach, thawed and drained of excess water
1 large tomato, beefsteak, thinly sliced
1/2 cup feta cheese, crumbled
1 tsp dried oregano
Directions:
Preheat oven to 400ºF.
Arrange pitas on a large baking sheet. Combine ricotta and garlic powder; spoon mixture over pitas, to within 1/2 inch of the edges. Top with spinach and tomato. Sprinkle with feta then oregano.
Bake until edges of pitas are golden, about 12 minutes. Serve warm or at room temperature.
Weight Watchers POINTS = 6 per pizza
Wow, a Weight Watchers frittata recipe that I missed during my Five Days of Frittata roundup. Looks like I have to stop by the store for more tomatoes and some fresh basil, too.
Tomato, Basil and Ricotta Frittata
Serves 1
Ingredients:
1 large egg
2 large egg whites
1 medium tomato chopped
1 tbsp basil fresh, chopped
1/4 cup fat-free ricotta cheese skim
1 small garlic clove minced
Directions:
Mix together egg and egg white in a small bowl.
Mix together tomato, basil, ricotta and garlic in another small bowl.
Heat a small oven-proof nonstick skillet over med-high heat.
Add eggs and cook until set but still soft in middle, about 3 to 4 minutes.
Top with tomato mixture and broil until puffed, slightly browned and set all the way through, about 4 to 5 minutes.
Weight Watchers POINTS = 4
Tomorrow join me for some sweet Weight Watchers dessert ricotta recipes.