Our first dish for Mother's Day comes from the new Lifetime Television show, Cook Yourself Thin, that premiered today. (Read my review of the premier episode of Cook Yourself Thin.)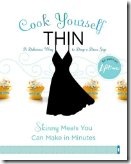 Cook Yourself Thin teaches viewers how to take their favorite indulgent meals and turn them into something healthy by cutting the calories and doubling the flavor. The companion cookbook, Cook Yourself Thin: Skinny Meals You Can Make in Minutes
would make a wonderful Mother's Day gift for any mom trying to eat healthier let alone those trying to drop some weight. The cookbook includes all of the recipes featured on the show as well as a calorie guide, a list of calorie offenders, skinny alternatives to your favorite meals, a food personality quiz and more.
My only complaint with the cookbook is that it only lists calories, not fat, fiber, sodium, etc. If you're doing the Weight Watchers Momentum plan, you'd need to calculate each ingredient's POINTS, then add them all up and divide by the number of servings to get your POINTS per serving info.
Mother's Day Meal – a Mexican seafood feast
If the mom in your life loves shrimp (low in Weight Watchers POINTS and calories) why not try this dish from Cook Yourself Thin: Skinny Meals You Can Make in Minutes
.
Sautéed Tequila Lime Shrimp Tacos with Mango and Pineapple Salsa and Spicy Black Beans
Serves 4
For the shrimp tacos:
2 – 4 Tbsp olive oil
1 garlic clove, chopped
½ tsp ground cumin
Pinch red pepper flakes
1 lb medium shrimp, deveined
3 Tbsp high-quality tequila
Salt, to taste
Pepper, to taste
1 tsp dried chipotle powder
2 – 3 Tbsp cilantro, chopped
4 whole wheat tortillas
For the mango and pineapple salsa:
1 large, ripe mango, chopped
¼ cup red onions, chopped
¼ cup red bell pepper, chopped
1 8-oz can pineapple tidbits in juice, drained
1 Tbsp freshly squeezed lime juice
1 – 2 Tbsp cilantro, chopped
Salt, to taste
For the spicy black beans:
2 Tbsp onion, chopped
1 garlic clove, chopped
1 Tbsp ground cumin
1 14-oz can black beans
2 Tbsp red pepper flakes
Directions:
1. To make the shrimp tacos: In a large skillet over medium heat, add the olive oil. Add the chopped garlic and cook for about 1 minute. Add the cumin and red pepper flakes and let the flavors blend together. Add the shrimp and toss. Carefully add the tequila and flambé. Season with salt and add the dried chipotle powder. Once shrimp are cooked, add the chopped cilantro and toss.
2. In a separate nonstick skillet over low heat, heat a whole wheat tortilla until pliable, about 2 minutes on each side.
3. Place one tortilla per person and serve three shrimp in each taco.
4. To make the spicy black beans: In a saucepan over medium heat, add the chopped onion, and chopped garlic clove. Sweat the onions for about 2 minutes. Add the cumin and the black beans. Stir and add the red pepper flakes. Simmer for about 5 minutes.
5. To make the mango and pineapple salsa: Peel the mango and chop into small dice and place in a bowl. Chop the yellow and red bell peppers and add to the bowl with the mango. Add the drained pineapple tidbits and chopped red onion and toss together. Squeeze some lime juice over and toss. Add the chopped cilantro, salt to taste, and toss. Refrigerate until ready to serve.
Nutritional information:
Calories per serving, shrimp tacos: 413
Calories per serving, mango and pineapple salsa: 76
Calories per serving, spicy black beans: 110
Weight Watchers POINTS per serving = 6
Salsa = 0 POINTS
1 medium whole wheat tortilla = 1 POINT
Shrimp (2 oz. cooked) = 1 POINT
1/2 cup canned black beans = 1 POINT
If you made a meal with 1 whole wheat tortilla, 4 ounces of shrimp, 1 cup of black beans, and some salsa, that would be 5 POINTS. Add another point for the olive oil used to cook up the shrimp, and I estimate the Weight Watchers POINTS to be around 6 per serving. Not bad.