I must be related to Winnie the Pooh, because I'm addicted to honey. One of my favorite guilty treats is Greek yogurt topped with locally produced honey, like Madhava's Ambrosia honey or their Mountain Gold honeys. So when the folks at the National Honey Board asked if I'd like a flight of honey to sample, it was an offer I couldn't refuse - especially since their headquarters is in my hometown and we host an honey festival every year. 
Since I can't wait until August, I've decided it's Honey Week here at This Mama Cooks! and will be featuring healthy, low Weight Watchers POINTs honey recipes all week.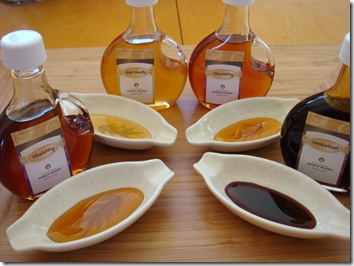 Our honey sampling
Besides the four small jars of honey and a recipe booklet, the Honey Board sent me a little book called "Honey Varietal Guide." I had no idea there were so many types – over 300 with 21 popular honey varietals.
For our honey flight, we tried star thistle, cranberry, blueberry and buckwheat honeys. The cranberry and blueberry kinds are not flavored honeys, but honey made by bees that feed off the flowers of blueberry and cranberry shrubs.
As part of our taste test, I sliced up apples for dipping and invited the kids to join me as an after school snack. We had different favorites. My daughter, Lucie, preferred the lighter honeys – star thistle and cranberry. My son, Nathan, liked the more robust flavors of the buckwheat and blueberry honeys. I liked both the dark and light varieties, but my favorite was buckwheat, which has a malty flavor, followed by cranberry.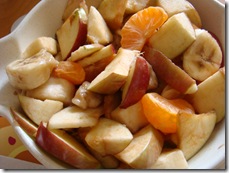 Needless to say, there is a honey for every palette and I enjoyed drizzling these honeys on my fruit salad on Mother's Day.
Still, I prefer my local honeys (wildflower, clover and alfalfa) over even the buckwheat. They're just more "honey-ish" to me.
Also, I've been told that if you eat locally produced honey, your hay fever and allergies to local pollens will lessen over time. I have a friend who swears on this natural remedy. However, it's not an excuse to eat gallons of it or you'll end up like Winnie the Pooh, stuck in Rabbit's house since he's too fat from all the honey he ate.