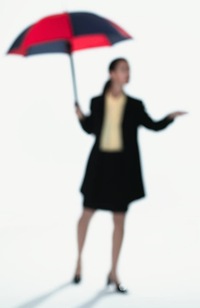 Here's some advice that you'll never see  on another diet and food blog: don't use those forked hose adapter thingies on your outside faucet. Because if you do, the water will freeze in it, bust a pipe, and leak into your basement the first time you use the garden hose in the spring.
Yes, that's what happened here at the Nichols homestead this weekend. Water rained down over the shelves where I keep the extra foodstuffs including dozens of boxes of Barilla Whole Grain Pasta and Oven Ready Lasagna noodles that I bought at a highly reduced price at my local discount grocery store. The noodles were still useable since the water was clean and they weren't mushy – just slightly damp. (What was too far gone went into the composter.)
Enough lasagna to feed an army
So when life gives you wet noodles, drive to Wal-Mart, buy a case of low fat ricotta, 18 organic eggs, two big bags of shredded low fat mozzarella cheese, and some large, disposable aluminum lasagna pans. Cook up some Italian sausage from the freezer, and get out all the pouches of Ragu sauce you can find – 'cause you'll be cooking up five large trays of lasagna to stack in the freezer over the next two evenings. (Shoot me now, please.)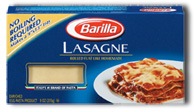 What an ordeal. I arranged layers of noodles, sauce, sausage and ricotta using Barilla's lasagna tips for assembly and freezing. Now that I'm done, I don't want to see lasagna for another month or two. Plus, having all that shredded cheese laying around the house was way too tempting. And I was in no mood to resist, unfortunately.
Since I wanted to the piles of noodles to be out of my sight, I didn't make the effort to make a reduced calorie or low fat lasagna. Instead, I plan to cook the frozen lasagna for the kids on the nights when my husband and I grill fish. (Our children usually don't eat fish though they surprise us at times. But they always eat lasagna.) And Paul can take leftovers to work the next day after the kids eat more lasagna for breakfast. If there's anything left over, I can serve it over cooked Italian vegetables.
Whole wheat lasagna noodles
Next time I make lasagna, I will plan better and make it healthier. One of the easiest ways to do that is to use a whole grain noodles. I love Barilla Whole Grain Pasta and wish they made whole wheat lasagna. (Their Oven Ready Lasagna noodles are wonderfully convenient but not whole grain.) Luckily there are some alternatives that I'll can try:
Weight Watchers lasagna?
I was surprised not to find many lasagna recipes on the Weight Watchers website. In fact it was a bit frustrating since it's so easy to make lasagna healthier – reduce the cheese, use egg whites and low fat or no fat ricotta, and load it up with veggies.
I did find one recipe that was intriguing for its use of non-traditional ingredients like pine nuts and raisins.
Weight Watchers Baked Winter Squash, Raisin and Pine Nut Lasagna
Serves 8
Ingredients:
1/4 cup all-purpose flour
2 1/2 cups fat-free evaporated milk
2 medium garlic cloves, minced
1/3 cup grated Parmesan cheese
1/8 tsp table salt, or to taste
1/8 tsp black pepper, or to taste
10 oz dry lasagna noodles, cooked al dente (about 12 noodles)
10 oz cooked winter squash, thawed if frozen
1 cup part-skim mozzarella cheese, shredded
3/4 cup golden raisins
2 tbsp pine nuts, chopped (Pine nuts are seeds not nuts, so most people with nut allergies should not have a problem with them.)
Directions:
Preheat oven to 350°F.
Place flour in a small saucepan and very gradually whisk in milk and garlic. Warm over low heat, stirring constantly, until sauce simmers and is thickened, about 3 minutes.
Remove from heat and stir in Parmesan cheese, salt and pepper.
Spread 1/4 cup of cheese sauce over bottom of a 9 X 13-inch glass or metal pan and cover with 3 lasagna noodles; top with 1/3 of squash and 1/2 cup of cheese sauce. Sprinkle with 1/2 cup of mozzarella cheese and 1/4 cup of raisins.
Cover with 3 more lasagna noodles and spread with 1/3 of remaining squash and 1/2 cup of cheese sauce; sprinkle with 1/4 cup of raisins.
Cover with 3 more lasagna noodles and top with remaining squash and raisins; cover with last 3 lasagna noodles, pressing sheets firmly down.
Top with remaining cheese sauce; sprinkle with pine nuts and remaining mozzarella cheese
Bake until lasagna bubbles around edges and is browned on top, about 30 minutes.
Let sit for 15 minutes before slicing into 8 pieces to serve.
Substitute other dried fruit like cranberries, cherries, blueberries or golden raisins instead of regular raisins. Or you can mix several types!
Weight Watchers POINTS = 6 per serving
More recipes
Here are some more healthy pasta and lasagna recipes to try: