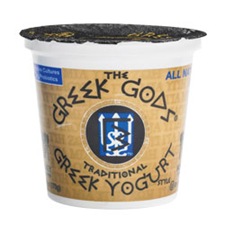 I grew up eating a Dannon coffee yogurt every morning for breakfast. This was back when Dannon was the only yogurt sold in grocery stores, years before Yoplait showed up. Now there are a million types of yogurt to choose from – no fat, low fat, lite, artificially sweetened, yogurt for kids, organic, probiotic, baby yogurt, and even yogurt drinks like kefir.
Yogurt for most Americans is an overly sweetened liquid that is supposed to be good for us, but has become so processed and sugared up that it's not. It's a sad state of affairs, especially when compared to European yogurts and their thick, creamy, amazingly delicious goodness.
When we came home after visiting my my sister in Switzerland, my husband told me to stop buying the cheap, low fat store brand yogurt and look for something better. We settled on organic Horizon Organic low fat yogurt at a dollar a cup. Luckily, I can get it at my local discount grocery store for 20 cents – when they have it in stock, that is.
Greek yogurt – good in all its varieties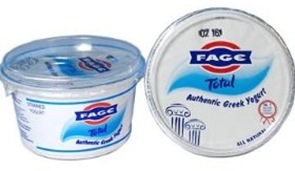 Then I discovered Greek style yogurt on a trip to Boston. I fell in love with its tangy taste and found that even zero fat Greek yogurt has a rich creaminess unlike most regular no fat yogurts. I was hooked – 0%, 2%, 5%, full fat, flavored – I loved it all even though Greek yogurt is pricey. Oh well, you get what you pay for.
I started trying out different brand like no fat organic Oikos Greek yogurt, a personal favorite since it's organic and made by Stonyfield Farm whose environmental practices I wholeheartedly support. Fage is a great brand, too, and comes in an amazing variety of styles (fat content) and flavors. (See what the BlogHer reviewers think of Fage.) There is also Chobani Greek yogurt, Greek Gods yogurt, and Voskos Greek yogurt. I haven't tried the last three but just picked up some Voskos today at the discount market. Can't wait to see if it's as good as Oikos and Fage. (Just took a yogurt break – it's delicious!)
How to cook with Greek yogurt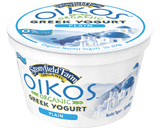 If a recipe calls for sour cream, substitute it with no fat Greek yogurt to cut back on calories and fat. I've used it in everything from oatmeal pancakes and pumpkin pie to Slow Cooker Greek Yogurt and Garlic Mashed Potatoes. Try it on your potato pancakes, in beet soup or instead of milk in a quiche.
Still my favorite way is to enjoy a cup of plain, no fat Greek yogurt with two tablespoons of honey or a sliced up banana. Both sweet treats are only four Weight Watchers POINTS and a great way to get in your milk if you're doing the Weight Watchers Momentum plan.
Then there's this recipe that was featured in the Denver Post a few weeks ago. Adapted from Pure Simple Cooking: Effortless Meals Every Day
by Diana Henry, it's on my to cook list for next week.
Greek Baked Chicken in Yogurt 
Serves 4 with leftovers for 2 lunches.
Ingredients:
6 medium chicken breasts (that's 6 halves, not 6 whole/unsplit chicken breasts)
Salt and pepper
3 Tablespoons olive oil, more if needed
1 large onion, chopped
1 pint Greek-style yogurt (use plain, no fat organic Oikos Greek yogurt to reduce fat content)
2 large eggs, beaten (use 1 whole egg and 3 egg whites to reduce fat content)
3 Tablespoons all-purpose flour
3  ounces feta cheese, crumbled (try to find a low fat feta cheese to use)
2  Tablespoons chopped fresh dill
Leaves from 3 to 4 mint sprigs, torn
3 cloves garlic, crushed
1/2 cup freshly grated parmesan cheese
Directions:
Preheat the oven to 350 degrees.
Season the chicken breasts with salt and pepper and quickly brown them in the olive oil over medium heat—you just want a good outside color, not to cook the chicken through. Remove and set aside.
Sauté the onion in the same pan — adding a little more oil if needed — until soft and just turning golden.
Combine the yogurt, eggs, flour, feta, dill, mint and garlic in a large bowl and mix well.
Lay the onion and the chicken in the bottom of an ovenproof dish into which everything will fit snugly. Spread the yogurt mixture evenly on top and sprinkle with the parmesan.
Bake for 45 minutes. The yogurt will have set, and the chicken should be cooked through.
More recipes