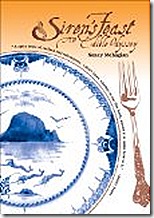 You'd think that the last thing someone on a diet would want to do is read a book about food and cooking. Au contraire, I love a good culinary memoir! Reading them gives me the satisfaction of enjoying wonderful and stories of cooking because I'm grazing with my mind and not eating with my mouth and consuming all those calories. Ruth Riechel's, Tender at the Bone and Julia Child's My Life in France
are two of my favorites.
Recently added to that list is Siren's Feast, An Edible Odyssey
by Nancy Mehagian. Quincy Jones, longtime friend of Nancy's, calls Siren's Feast,
"A spicy brew of recipes and adventures. I don't know whether to eat this book, smoke it or make love to it."
What an endorsement!
The book has been compared to Elizabeth Gilbert's Eat, Pray, Love, which I confess I haven't read yet even though I own a copy. Instead, Nancy's novel could be referred to as "Cook, Meditate and Get It On with Unavailable Men." Seriously though, it's a hard to put down, true story about one woman's spiritual and culinary adventure through life. It follows Nancy's as she grows up Armenian-American in Arizona in the '60s and '70s, then rebelliously travels through Morocco, India and Ibiza. She then spends 16 months in a London prison with her newborn daughter to serve time for "accidental" drug smuggling. The constant thread through her journey is her passion for healthy and wholesome food and cooking.
Loved the book, now let's cook some food!
I love when fiction and non-fiction books come with recipes and Siren's Feast, An Edible Odyssey
contains more than 40 – everything from Armenian dishes to English Christmas Trifle. My only problem with the book is that there isn't an index to look up the recipes after you've finished reading the story and want to cook up a few dishes.
I also wished the book didn't end and would like to know what Nancy is doing now. But according to her website, SirensFeast.com, she is currently at work on another culinary memoir, On the Table, chronicling her decades-long career cooking and massaging in Hollywood. You can also check out her Siren's Feast blog for the latest about book signings and appearances.
Nancy's publicist was nice enough to send me several of her recipes. Here's one of her healthier vegetarian Armenian recipes.
Armenian Eggplant Salad
One of the staple vegetables of Armenia is eggplant, or patlijan. Once roasted, the flavor is indescribable.
Ingredients:
4 green chili peppers (Anaheim variety)
2 red bell peppers
2 medium eggplants
3-4 ripe tomatoes
1 purple onion, chopped finely
2 cloves garlic, pressed
1 bunch parsley, chopped finely
½ tsp. paprika
¼ cup lemon juice
2 tbsp. red wine vinegar
¼ cup olive oil
Pinch cayenne pepper
Salt/black pepper to taste
Directions:
Roast all the peppers and eggplant under broiler, turning so all sides are roasted evenly. (You could try doing this on the grill or over the gas burners of your stove.)
When the skins are charred, remove from broiler and allow to cool. (Placing them in a paper bag allows them to steam so the skins may be easily removed.)
Peel, seed and dice the peppers and place in a salad bowl. Peel and dice the eggplant and add to bowl. Add the tomatoes, onion, garlic, parsley and seasonings.
Toss all ingredients well, cover the bowl and place in the refrigerator to chill. This salad can be made the night before and will taste even better when the flavors are allowed to blend. Serves 6-8
Weight Watchers POINTS = 1 (and a great way to get your heart healthy olive oil in for the day)