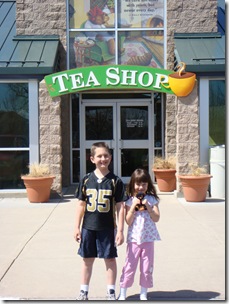 As part of the Weight Watchers Momentum plan, you are encouraged to drink eight cups of liquid a day. The difference from a few years back is that you can include everything you drink – tea, coffee, diet soda, milk, fruit juice, etc. – and not just water.
I'm glad to hear that because I'm a big tea drinker. Luckily for me I live in Colorado, not far from the Boulder headquarters of Celestial Seasonings, and where all their teas are made, packaged and boxed.
Take the tea tour
Over spring break, I took the kids and my mother-in-law to the Celestial Seasonings factory tour. Not only is it free but we learned all kinds of cool info about tea. (Yes, the kids enjoyed it, too.) For example, did you know that all teas (green, white, and black) come from the Camellia sinensis plant? The different types are determined by how/where the plant is grown or how it is processed after being harvested. White tea is picked once a year from the top of the plants. Black tea leaves are oxidized tea leaves. And red teas aren't really "tea" but are brewed herbal concoctions (for want of a better term) that are made from the leaves from Rooibos and heuningbos plants.
According to our tour guide, if you put milk in your herbal tea, it will curdle because many of the plants that Celestial Seasonings use in their herbal blends are acidic. And speaking of milk, if you put it in your tea (herbal or regular) it will "kill" the antioxidant properties of the tea. (Check out the Celestial Seasonings website for more tea and health information.)
Celestial Seasonings Cool Brew teas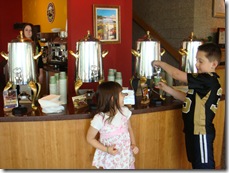 Along with the wonderful tour, we had a chance to sample several new Celestial Seasonings teas in the tasting room. We also visited the Tea Shop twice and went home with over $50 of tea and Celestial Seasonings coffee. (They have a dollar bin, so I couldn't resist.)
My favorite purchase was several boxes of the Cool Brew Iced Teas, which I learned about on the tour. The teas brew in cold water in just five minutes. Here are the varieties I purchased:
My review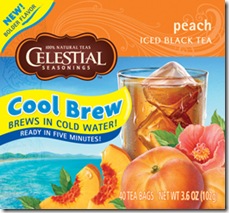 I have a four-quart Pampered Chef pitcher that I keep in the fridge filled with water and lemon or lime slices. I first brewed the Raspberry Cool Brew Iced Tea. They recommend four tea bags to one quart of water, so I put 16 bags into the pitcher, filled it with water and placed it in the fridge for a few hours.
While the tea brewed up great, it was too strong and bitter. So I decided to back down and only used three bags per quart when I brewed the peach and mint cool brew teas. Much better! The Peach Cool Brew Iced Tea was delicious and had a slight hint of peach. It wasn't bitter and didn't need sweetening.
However, the mint tea was fabulous! My husband drank two big glasses in a row and thought the tea was refreshing and made him "feel healthy." We both agreed that the Mint Cool Brew Iced Tea would make a terrific mint julep. Just add a jigger of bourbon, some no calorie sweetener and serve it on crushed ice and you're good to go!
Don't have Celestial Seasonings Cool Brew Iced teas at your grocery store? Buy them from Amazon: