Well, it took five weeks, but I finally lost my first five pounds at Weight Watchers. (Actually I'm down six pounds.) I think the weight is coming off slower on the scale this time around because I'm exercising. In fact, I've also gone down a clothing size. (When I've done Weight Watchers in the past I never exercised. Now I'm doing at least 35 minutes, 2 POINTS worth, of exercise per day, six days a week.)
Challenges
My next challenge is my daughter's birthday dinner tonight, since we're going to a '50s diner type place that is not very diet friendly. Then it's Chuck E Cheese tomorrow, followed by a few days at SXSW Interactive in Austin. (Hello, Texas-style barbeque!)
By the way, I'm speaking on the Dad is the New Mom panel, Room 18BCD, on Monday, March 16th from 5:00 pm – 6:00 pm. Come by and say hi! Since I'll be gone, I may be away from my blog for awhile. But I'll be very active on Twitter, so sign up for my feed.
My plans for the week
My hotel at SXSW is .5 miles from the Convention Center, so that means a good amount of walking. I'm bringing my water bottle to fill up on the airplane and during the conference. I'm bringing a pack of Weight Watchers oatmeal in a cup to eat for breakfast in my hotel room. I also have some low POINTS snack bars to keep in my backpack.
But if you know about SXSW, you know it's all about the parties, too. Needless to say, I'll have a beer or two, but hopefully I'll be too busy running around to nosh too much.  As far as lunch and dinner, my plan is to stick to salads or lean meat/fish with some veggies.
So with that in mind, here's a salad recipe worth indulging on from the from the folks at Driscoll's Berries.
Blackberry and Pear Asian Salad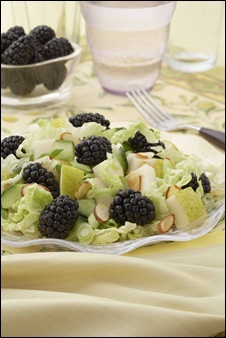 Prep time: 10 minutes
Makes: 4 servings
Directions:
Arrange lettuce, blackberries, pear, cucumber, green onion and almonds evenly on four salad plates.
Drizzle salads with dressing to taste.
Nutritional info
Calories:  152, Fat:  11 grams, Protein:  4 grams, Carbohydrates:  12 grams
This Mama's tips