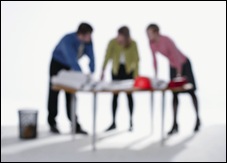 Planning your meals is an important part of any diet, especially Weight Watchers. Either you need to make sure that your pantry and refrigerator are filled with nutritious, low calorie and high fiber foods – beans, whole wheat pasta, skim milk, fruit and veggies, etc. Or you need to prepare meals in advance so you don't come home starving after dinner and pig out on whatever you can find.
Once a month cooking and freezer meals
Freezer cooking or once-a-month cooking has been around a long time mostly for convenience and money saving reasons. But why not experiment with it and create healthier meals for you?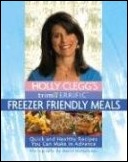 A good book to try is Holly Clegg's Trim & Terrific Freezer Friendly Meals
because her meals are already healthy. If you use cookbooks like The Freezer Cooking Manual from 30 Day Gourmet: A Month of Meals Made Easy
or Once-a-Month Cooking
, you'll have to adjust the recipes to lower the fat and calories and increase the fiber.
Wanting to try freezer cooking out, I hosted a power cooking Pampered Chef show at my home. Using chicken breasts, a few seasonings, and some freezer bags, we created several freezer meals that I could defrost and put into the crockpot.
The recipes were easy and easy to make because we put them together as a group. (The Glenwood Creek wine helped, too.) All the recipes were healthy, low calorie/low fat choices that went well with my Weight Watcher Momentum plan, too. Here's a sample:
Fajita Chicken
Ingredients:
1½ lbs. chicken (if you're using frozen chicken breasts, let them thaw slightly)
1-2 limes
2-3 cloves garlic
2 Tbl. Pampered Chef Southwest Seasoning (You can substitute fajita seasoning.)
salt and pepper (Pampered Chef Southwest Seasoning does not contain salt. However, most fajita seasonings do, so watch your sodium!)
Directions:
Cut limes in half and press juice into bag using juice press.
Use a garlic press to mince the garlic.
Add Southwest Seasoning or fajita seasoning. Add salt and pepper to taste.
Seal bag and mix.
Freeze or cook.
Grilling frozen fajita chicken:
Defrost overnight in the refrigerator. The chicken will marinate as it defrosts.
Grill until cooked through.
Cooking in a crockpot:
Remove frozen chicken and marinade from bag and place in your slow cooker. (If the food sticks to the freezer bag, defrost for a minute or submerge bag in warm water in the sink until slightly defrosted.)
You'll need to add more moisture to the chicken, so either add a can of tomatoes with chilis, a cup of salsa, or a cup of chicken or vegetable broth.
Cook on low for 4 to 6 hours until done.
Shred the meat with two forks or cut up into small pieces.
Serving suggestions:
Use corn not flour tortillas. A small corn tortilla is 1 Weight Watchers POINT.
Cook up frozen pepper strips and onions. Zero Weight Watchers POINTS, but if you saute them up in oil, make sure to add the appropriate POINTS.
Rosarita no fat refried beans and low fat black beans are delicious, high in fiber and only 1 POINT per 1/2 cup.
Salsa is a "free" condiment as is hot sauce.
Use no fat Oikos Organic Greek Yogurt instead of sour cream.
Weight Watchers POINTS = 1 POINT per ounce of cooked chicken