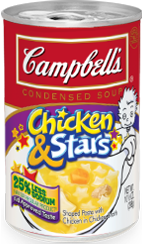 I've been so busy that I never had time to post about my trip to the Campbell's headquarters in Camden, NJ last month. I was impressed by their efforts in making their products – from soups, Prego, Pace, Pepperidge Farms and V-8 – healthier and how dedicated they were to making life easier for moms. (You can learn more about their Global Commitment to Responsible Advertising and their commitment to offering healthy and nutritious products and providing safe, high-quality and convenient products on their corporate website.)
Read about the event from some of the other bloggers who went:
So what do you get out of my trip, dear reader? Hopefully some recipes soon (I swear). But even more fun, a chance to win a year's supply Campbell's® Chicken & Stars kids soup (reduced sodium) and a cute Campbell's thermos!! (NOTE: a year's supply is 24 cans.)
Here's how you can win:
Leave your name, email address, and blog address (if you have one) in the comments below for ONE entry.
If you have a blog, feel free to post about this contest on it for ONE entry.
Sign up for my RSS feed for ONE entry.
Sign up for my enewsletter for ONE entry.
If you have already signed up for my enewsletter or RSS feed in a previous contest, let me know. I will count those as entries in this and all future contests.
Spread the word about this giveaway by submitting a link to this post on StumbleUpon, Digg, Kirtsy, or Twitter. You must leave your username for that site in your comment so I can check. ONE entry per submission or vote for a maximum of FOUR.
Join my Google Friend Connect (you'll need a Google account of some sort).
If you have signed up for my RSS feed, my enewsletter, become part of my Google Friend Connect, used social media to promote my contest, and/or posted about my contest on your blog you MUST come back here and leave a comment telling me what you did. I will be checking! If you signed up for my RSS feed or enewsletter previously, just let me know and I'll count those as well.
Maximum amount of entries at This Mama Cooks! is NINE – leaving a comment here (1), posting about it on your blog (1), signing up for my enewsletter (1), signing up for my RSS feed (1), signing up for my Google Friend Connect (1), and using social media (4).
You have until midnight MT on Friday, March 6, 2009 to enter.
You must be willing to send me your full name and mailing address so I can forward them on to Campbell's PR firm (Weber Shandwick Worldwide) to send out your soup. If you don't want to share your personal info with me and/or Weber Shandwick, don't enter the contest.)
I will announce the winners by March 11, 2009 on this blog. I will not share your mailing info with the public, just your name. If you have a blog, I will link back to it when I announce the winners.
Prize valued at $46 or less. Open to legal residents of the United States 18 years of age and older. No purchase required. Up to NINE entries per person. Void where prohibited by law. By submitting your name and email address, you agree to receive relevant promotional emails and contest follow up communications from This Mama Cooks! in compliance with our privacy policy and giveaway rules.