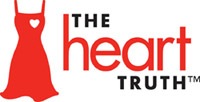 Last Friday was National Wear Red Day where millions of people wore red to help spread the critical message that "Heart Disease Doesn't Care What You Wear–It's the #1 Killer of Women." Even if you forgot to wear red, there's still many ways to get the word out about The Heart Truth. Here's how:
Red Dress Collection 2009
On February 13, 2009, The Heart Truth will bring the Red Dress to life once again on the runway at New York Fashion Week with the debut of the Red Dress Collection 2009. This spectacular event reminds women of the need to protect their heart health and inspires them to take action. For the first time ever, a selection of the designer dresses seen on the runway will be auctioned online in February through a partnership with Clothes Off Our Back.
Become a Facebook Fan
Join and encourage your friends to join the The Heart Truth fan page on Facebook. Learn of new events in your area, get first hand updates on the 2009 Red Dress Fashion Show and share your stories with others.
Eat your way to a healthy heart
Check out my post Recipe Roundup: Eating Your Way to a Healthy Heart at the FoodieView blog for some terrific heart healthy recipes.
For more recipes, check out Stay Young at Heart Recipes, a page full of recipes that focus on cooking the heart healthy way.
Stay informed
Sign up to receive The Heart Truth's Quarterly E-zine today! And take time to learn more about heart disease: