I'm honored to have Jennette Fulda of the Pasta Queen doing today's guest post. Jennette was my roommate at BlogHer 2008 - she's a terrific person to room with since she goes to bed early like me. (We may look like fabulously hip bloggers, but inside we're rather tired, achy ladies. Sigh.)
We were both at the Quaker Oats Blogger Event, and Jennette won their oatmeal recipe challenge with her Oatmeal Expresso recipe. (She never did make it to the Lafayette Oatmeal Festival though, LOL.)
Along with reading her blog, you need to check out her book Half-Assed: A Weight-Loss Memoir
or her Half-Assed website. Did I mention she lost half her body weight?
Eating Healthy on a Budget
by Jennette Fulda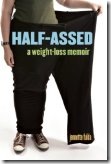 When I started the process to lose over half my weight, I was still recovering from a mountain of credit card debt spent on college expenses, 12 cavities, and a new transmission. Yet, I didn't let my tight budget stop me from pursuing a healthier lifestyle, though I did dedicate a few more dollars towards dental floss.
Now that our economy has entered a recession, some experts hypothesize that we may pack on recession pounds as people turn to cheaper, processed foods high in empty carbohydrates. There is no doubt people are looking for ways to make their money go farther, but that doesn't mean they can only eat off the dollar menu. Here are some tips on how to live healthy without living in a cardboard box.
Shop the sales
Most grocery stores put their weekly ads online, so even if you don't subscribe to a newspaper you can find out what's on sale this week. Fruits and vegetables that are in season will be cheaper than out-of-season produce that have been shipped in from exotic locations.
Make a meal plan
After you've looked at the ads, decide what you're going to buy and make a meal plan for the week  revolving around those items. If you plan ahead what you are going to make, you can make adjustments to make sure you don't go over your budgeted amount that week. You can also plan a day at the end of the week to have soup or chili which uses leftovers from earlier in the week.
Stock up and freeze perishables
If you have room in your freezer or pantries, stock up on items when they are on sale, but try to avoid buying too many processed foods which can be high in sodium and artificial ingredients a.k.a. fake food. Frozen vegetables will not go bad, unlike rotting vegetables in your fresher drawer that you meant to eat, but never did.
Use coupons
It can be wise to subscribe to the Sunday edition of the newspaper, which usually includes a pack of coupons. You can also find coupons online, like my local paper does here. Sites like The Grocery Game give tips on how to maximize your savings by combining coupons with sale items. Clever couponing can save you money, but you should only buy items you would buy anyway. Just because you have a 50 cents off coupon for cookies doesn't mean you should use it.
Start a vegetable garden
I live in a one bedroom apartment without a yard or an apartment, but I am envious of a coworker of mine who has a vegetable garden in his backyard. During the year he sometimes brings in tomatoes to work because he and his wife cannot eat them all before they go bad. If you have a patch of earth in a sunny spot, the price of seeds and water is usually cheaper than buying veggies at the store. Ask an expert at a gardening store what plants are best suited to your climate.
Drink water
Water is cheaper than sodas, coffee or tea and doctors agree that drinking more water is good for you. If you don't like the taste of tap water, invest $30 in a water filter and you'll save more money in the long run than if you buy bottled water.
It's easy to imagine weight loss would be easy if you could afford a personal chef and a home gym, but if you are determined enough to live a healthy lifestyle, it is possible to do so no matter what your financial circumstances are. Good luck!