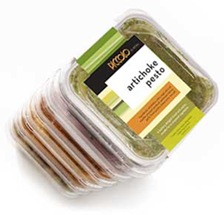 This year I've been working at eating healthier while trying to lose weight. In the past I've relied on highly processed foods to do so, but now I'm trying to eat a more "natural" diet and include heart healthy foods like berries, nuts, oats, and so on. I'm also trying to be more earth-friendly by buying locally made, grown and raised food products.
A fantastic (People's Republic of) Boulder, Colorado product I must recommend comes from Piccolo Foods, a new brand of artisanal, preservative-free dips, pestos, spreads and tapenades, recently introduced in specialty foods markets and grocery stores throughout New York City, New Jersey, Colorado and New Mexico. The dips would be great to serve at a New Year's or Super Bowl party.
Many to choose from
I was sent the Spinach Feta Dip, Artichoke Pesto, Sun Dried Tomato Pesto, Green Olive and Almond Pesto, Santa Fe Pimento Cheese, and Green Chili Smoked Gouda Spread to try. One word: delicious! Even the kids loved the spreads on crackers, while we grownups kept the pestos to ourselves for pasta.
Besides taste, other pluses were that Piccolo's gluten free products were marked as such. Also, the dips and pestos are made from sustainably produced ingredients and come in biodegradable plastic containers. Piccolo Foods also has a company-wide recycling program. I love products that taste good and also make me feel good about that buying them.
Even dip can be healthy…in moderation
While the dips, pestos and tapenades aren't low-fat (in fact they're almost 100% fat) they're made from heart healthy fats like walnuts, expeller pressed canola oil, extra virgin olive oil, olives, and almonds. (It's the added parmesan and Romano cheese that's the problem. Oh well, it's a delicious problem to have!)
But the nice thing about the spreads, pestos and tapenades is that a little goes a long way. A tablespoon of the Sun Dried Tomato Pesto (45 calories) was enough to flavor a bowl of pasta. Also, the Piccolo Foods recipe page offers healthy ideas like:
Spoon Piccolo's Kalamata Artichoke Tapenade into a big green salad.
Spread Red Pepper Pesto under the skin of a chicken breast before grilling.
Try the Green Olive and Almond pesto on top of some halibut or tilapia.
Mix warmed Piccolo Artichoke Pesto into softly steamed broccoli.

It's all about using their intensely flavored foods in moderation to dress up already healthy lean meats, fish and veggies, though you may be tempted to make a big ol' sandwich out of some of their yummy dips.

Piccolo's products have a shelf-life of 30 to 60 days and a retail price ranging from $4.99 to $5.99 – well worth the special treat. The first retailers to carry the Piccolo Foods line include King Soopers in Colorado; Fairway, Zabar's, Westside Markets, Amish Markets and Zaytuna Market, all in the New York City area; Kings Super Markets in New Jersey and Eldorado Supermarket in New Mexico.