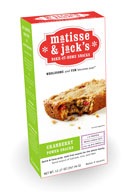 Since we so close to the time of year when we make our weight loss and getting healthy goals for the new year, I thought I'd share some new healthy food products and supplements that I've been sent to review.
The first product is Matisse & Jack's Bake-At-Home Snacks. Their philosophy is "Fresh is Best" and believe their products encourage families to get back in the kitchen, but make cooking healthy snacks much easier.
Their products contain organic and natural ingredients, and a balance of whole grains, protein, fiber and healthy fats. They can also be customized according to personal taste with different recipe variations both online and on the boxes.
There are four different bake mixes at this time: Granola Bites, Cocoa Squares, Cranberry Power Snacks, and Chocolate Chip Power Snacks. The mixes are available at Whole Foods and Super Targets throughout the U.S. (See their website for locations.) You can also order Matisse & Jack's mixes online. Prices range fro $4.99 to $5.99 and there's free UPS shipping if you order six boxes or more (mix and match).
My review – mmmmmmmm and kind of healthy, too!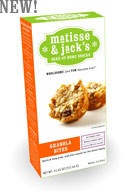 So far my family and I have tried the Cranberry Power Squares and the Granola Bites the company sent me to try. Both were delicious and very easy to make. You just need to have a few extra ingredients on hand like applesauce, oil, or butter. You also may need to buy a 8×8 baking dish or pan if you don't have one already.
I baked the Cranberry Power Squares while we ate dinner, and we were able to have a few for dessert that night. I liked that they were made with applesauce and minimal oil. Each box makes about nine squares and each is 3 Weight Watchers POINTS – the snacks are high in calories, but they're low in fat, and high in fiber and protein.
They're also full of good stuff like whole grain rolled oats, whole grain oat flour, flax seeds, and dried cranberries. Yes, the mix contains sugar, cane sugar, rice syrup solids, fructose and brown sugar, but I like these type of "natural" sugars compared to high fructose corn syrup.
The Granola Bites were yummy but I had to use eight tablespoons of butter to make them! That doesn't seem exactly low fat, but then again a finished bite has only 2.5 grams of fat (the cranberry bars had 2 grams of fat). There's less fiber and protein in the Granola Bites, so each piece is 4 Weight Watchers POINTS. It's still full of good stuff like whole grain rolled oats, but not as healthy as the cranberry squares. Bottom line, look over each product's nutritional information to decide what's best for you and your family.
If you're looking for healthier snacks for your kids next year, stock up on a few boxes of Matisse & Jack's Bake-At-Home Snacks and bake with the kids. You can keep a box in your pantry for a last minute dessert or snack and the bars are great for school lunches, picnics and camping. Also, you don't have to stock up on a zillion types of ingredients just to make one yummy treat. They're convenient and yummy and something you can feel good about serving your family.