On my women's social networking sites, I've noticed that many moms are looking to save money on their grocery bills during these tough economic times. Yes, you can buy in bulk, clip coupons, stock up on sale items, and stick to cheaper items like generic brands and pasta. Unfortunately, for many families it's not enough because they're too busy to cook and rely on unhealthy and expensive convenience food and takeout to get by.
One strategy to save money while getting your family to eat healthier, is to use a family meal plan like A Month of Meals. This 71-page ebook was written by Jaime Ussher, a working wife and mother, who was frustrated by her desire to provide healthy, quick meals for her family that didn't empty her pocketbook. She also blogs at Baby Get Green.
She has put together a very thoughtful and comprehensive ebook. It's a very well written, and clearly thought out plan. (And unlike so many ebooks I've purchased, it had no typos!) The downloadable ebook sells for $19.95 through ClickBank Marketplace and you can pay by credit card or through your PayPal account. She also offers an eight week, 100%, money-back guarantee.
My review of A Month of of Meals
I was impressed with how A Month of Meals was different from other once a month cooking type meal plans. First, Jaime shows you how eating healthy meals is actually cheaper by analyzing costs and taking into account where you live, and if you can buy local and seasonal produce.
Then she goes to cover the weekly meal plan recipes, including sides and dessert, and grocery staples. This is followed by the section on how to shop and analyze what you're spending on meals.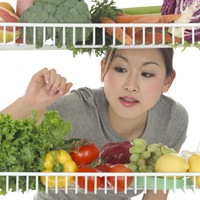 The cost analysis portion was very well done and worth doing on any meal you make from scratch. You'd be amazed how truly inexpensive it is to cook simple, healthful meals.
Subsequent chapters cover information on nutrition, getting children to eat better, why eating healthy is important, and how using a meal plan promotes less waste and is good for the planet. A Month of Meals also includes a page of links to health and gardening sites, and printable shopping lists and recipe cards.
My only criticism of A Month of Meals is that the recipes wouldn't work for my family, because my husband hunts and fishes as well as gardens. So, I tend to plan meals around what type of venison or fish is in the freezer or what's coming in from the garden that day. I'd like Jamie to be able to show me how to create a meal plan of my own around the ingredients we have in stock. (Maybe that's an idea for her next ebook.)
But if you're a person who's lost in the supermarket and trying to cut down on food bills, eat more healthfully, and spend less time cooking, check out A Month of Meals. You'll find that you make back the money you spent on it quickly.
(Thanks to the Family Review Network review for providing me with a review copy.)