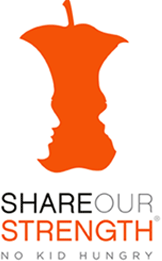 Share Something Sweet is a partnership between one of my favorite chocolate companies, Ferrero*, and Share Our Strength, a leading hunger-relief organization. They've been partnering for two years to help end childhood hunger in the U.S.
No child should grow up hungry, yet more than 12 million children in America are at risk of hunger. Despite its highly visible consequences, childhood hunger is invisible. You can't see it just by looking, and you can't measure it in pounds, but it is among us. Through dedicated, committed volunteers and community organizations, Share Our Strength finds childhood hunger where it hides and works to end it.
"Ferrero's 'Share Something Sweet' campaign helps raise awareness of the critical problem of childhood hunger in the United States while raising funds to solve it," said Bill Shore, co-founder of Share Our Strength. "We are pleased to continue to work with such a committed partner in the fight against childhood hunger."
How you can help
This year Ferrero has donated $150,000 to Share Our Strength and is giving others a chance to add to that donation. All you need to do is log on to Share Something Sweet and use it to "send something sweet," a customizable and no calorie e-card. Ferrero will donate another $1 per e-card sent, up to $10,000.
You can also join the Ferrero Facebook page, Ferrero Lovers Unite. For everyone who does that, Ferrero will donate another $1 to Share Our Strength up to $1,000.
Stop by the Share Something Sweet to take the chocolate personality quiz, "What chocolate are you?" I'm a Ferrero Rondnoir™ Dark Chocolate, go figure.
*The Ferrero Company's first product was made with hazelnuts and cocoa, resulting in the base ingredients for the world's number-one selling sweet spread on the market today – Nutella® hazelnut spread. Nutella is one of my biggest weaknesses. I could eat with a spoon for hours, which is why it is not allowed in the house.
(A Family Review Network post.)