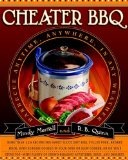 Maybe you want to smoke your turkey this year but you don't want to go out and buy a smoker and can't find one to borrow. Or maybe you think it's just too darn cold to cook outside this time of year.
This is where Mindy Merrell and R.B. Quinn, authors of the book, Cheater BBQ: Barbecue Anytime, Anywhere, in Any Weather, can help. If you like to barbeque, but want to eliminate the hassle and fuss, you need to get this cookbook.
Cheater BBQ is the first cookbook to bring the outdoor grilling pit into the weeknight kitchen using little more than a slow cooker or an oven, a roll of foil, a few everyday ingredients, and some all-natural liquid smoke. The recipes cover smoky barbecue classics: pulled pork, chicken, ribs, brisket, rubs, and regional sauces, sides like Boston Crocked Beans, Loaded Cornbread, as well as drinks and desserts.
It would also make an excellent holiday or birthday gift for any barbeque or grilling enthusiast, especially those apartment dwellers who don't have a patio or backyard to grill in.
Now how about a smoked Thanksgiving turkey done in a bag in the oven?
Smoked Whole Turkey in a Bag
Makes 8 servings
Cheater turkey is always moist, tender, and smoky and shows off a golden brown sheen.
Ingredients:
For the smoke brine (double or triple as necessary):­
For the turkey:
One 12-pound fresh or fully thawed turkey (not kosher)
2 to 3 tablespoons Cheater No-Salt Dry Rub (recipe below)
Dried oregano, sage, marjoram, and thyme
3 celery ribs, cut into 2- to 3-inch pieces
1 medium onion, cut into wedges
8 tablespoons (1 stick) butter, melted
2 tablespoons all-purpose flour
For the Cheater No-Salt Dry Rub:
This has dry rub flavor without the salt. It's especially useful for already brined pork, poultry, and shrimp. Makes 3/4 cup
1/4 cup paprika
1/4 cup coarsely ground black pepper
2 tablespoons garlic powder
2 tablespoons onion powder
COMBINE all the ingredients in a jar with a tight-fitting lid. Shake to blend.
Directions:
COMBINE 1-1/2 gallons of cold water with the brine ingredients in a cooler large enough to hold the turkey but small enough that you don't need too many additional gallons of brine to cover it. Brine the turkey for 24 hours. In cold weather, leave the cooler outdoors. Otherwise, place a gallon-size, sealable plastic bag filled with ice on top of the turkey and cover tightly. Add ice as necessary to keep the brine water cold.
REMOVE the turkey from the brine. Rinse and pat dry.
HEAT the oven to 325°F.
SPRINKLE the turkey cavity and skin with plenty of the dry rub. Sprinkle with the herbs to taste. Place the celery and onion in the cavity.
PLACE the bird in a turkey-sized oven bag set in a roasting pan. Holding the bag open, brush the turkey with the butter.
Following the packaging directions for the oven bag, ADD the flour and cut the slits in the bag.
SEAL and bake for 15 minutes per pound, or until the internal temperature in the thigh is at least 175°F and the breast is 160°F.
LET the turkey rest for 10 to 15 minutes. Discard the onion and celery and carve.
ENJOY!