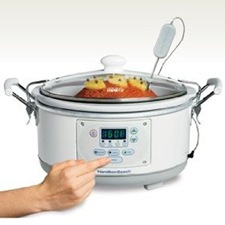 Well, I thought my Thanksgiving menu was set. Then I opened up the latest enewsletter from BlogHer and I saw this post from my friend, Kalyn of Kalyn's Kitchen, Make-Ahead or Crockpot Recipes Can Help with Timing for Thanksgiving Dinner.
Thanksgiving dishes in the crockpot. Oh joy, something I haven't done before! Many of the dishes were by my friend, Stephanie at The Year of Crockpotting. (Gosh, I'm doing a lot of name dropping here, but I do know Kalyn and Stephanie, having met both of them at BlogHer conferences.)
Gluten free stuffing recipes
Besides doing crockpot recipes, Stephanie does gluten free ones! Since my mother-in-law is coming next week, I've been trying to find a good GF recipe for her and settled on using a gluten free bread mix to substitute for the bread. She has two: Crockpot Cornbread Stuffing and Perfect Homemade Crockpot Stuffing. I'm going to use the second one and add some venison Italian sausage to it. I have yet to find a truly healthy stuffing recipes, unfortunately, so might as well go all out and make it as yummy as possible.
Mashed and sweet potatoes
I'm definitely making Kalyn's Spicy Crockpot Sweet Potatoes, which looks delicious. Since she follows the South Beach Diet, her recipe is already very healthy. I also liked Slow-Cooked Rosemary Thyme Mashed Potatoes from Coconut and Lime, but I'm going to make a healthier version.
Slow Cooker Greek Yogurt and Garlic Mashed Potatoes
Ingredients:
3 pounds red skin potatoes, quartered (do not peel) preferably organic
4 cloves garlic, sliced
3/4 cup vegetable stock
1/2 cup Stonyfield Farm plain, no fat Oikos Organic Greek yogurt*
1/4 cup skim milk
2 tablespoons butter
1/2 teaspoon dried sage (or 1/2 tablespoon fresh)
1/2 teaspoon thyme (or 1/2 tablespoon fresh)
1/4 chopped rosemary (or 1 teaspoon fresh)
salt and pepper to taste (remember the stock probably has some added salt, so use it sparingly)
Directions:
Place in the crockpot. Add garlic, broth, herbs, salt, and pepper. Stir.
Cook on high until potatoes are tender, about 3-4 hours.
Pour in yogurt and milk and mash. I like using an immersion hand blender for creamy mash potatoes.
Adjust the setting to low to keep warm until you are ready to serve. (Most crockpots are so well insulated that you can probably turn it off up to a hour before serving, and the potatoes will still be warm. If you're not sure, either keep it on low, or turn it off, unplug, and cover with a thick towel.)
*If you do not have Greek yogurt at your grocery store, you can substitute plain, no fat yogurt. It's not as thick, so you may want to cut back on the milk.
Now my dilemma is that I'm short two crockpots! I've sent out an email to my friends, and four of them said they'd lend theirs to me. Can't wait to start cooking!
(Click here to get coupons for Stonyfield Farm yogurt products.)