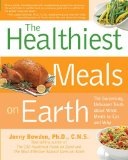 Here's another Thanksgiving holiday recipe from Jonny Bowden's Healthiest Meals on Earth: The Surprising, Unbiased Truth About What Meals to Eat and Why
.
Since my daughter is allergic to tree nuts and my mother-in-law is on a gluten-free diet, I'll be using a GF pie crust mix instead of making the almond-oat crust.
I'll also be substituting cow's milk for the almond milk and foregoing the pecan topping. Instead, I'll just drizzle some agave nectar or maple syrup on top.
Sweet Potato Pie with Almond-Oat Crust
Serves: 8
Prep Time: 20-25 minutes Cook Time: about 50 minutes
Ingredients:
Pie Filling
3 lbs sweet potatoes (5-6 medium), peeled and cut into 1½" pieces
2 eggs
¼ c agave nectar
¼ c almond milk
¼ c melted Natucol or Earth Balance (non-hydrogenated vegetable spread) or butter
3 T orange juice, about ½ orange, squeezed
1 t vanilla, or ½ t vanilla and ½ t orange extract
1 t cinnamon
1/2 t nutmeg
¼ t ground cloves
Or omit single spices and use 1 ½ t pumpkin pie spice
Pie Crust
2/3 C whole oats, ground into flour in food processor
2/3 C almonds, ground into fine meal in food processor
2/3 C whole wheat pastry flour
¼ C almond or grapeseed oil
¼ C agave nectar
¼ C water
Pie Topping
1 C raw pecan halves or toasted sliced almonds
2 T brown rice syrup
1 T agave nectar
Directions:
Preheat oven to 350°.
Place sweet potatoes in large pot of boiling water and boil until very soft, about 10-12 minutes.
While potatoes are boiling, place 2 eggs in a mixer and beat well.
When potatoes are soft, drain well and add to the mixing bowl.
Add agave, almond milk, spread or butter, orange juice, extract(s) and spices and mix until light and fluffy ~ all lumps removed.
To make the pie crust, add the dry ingredients to a large mixing bowl and mix to combine.
Whisk the wet ingredients together in a smaller bowl and pour into the dry.
Mix until well combined. Batter will be sticky.
Oil a 10" deep-dish pie plate and spread crust mixture evenly onto plate with oiled fingers.
Lay out pecans in a single layer on a baking sheet and place nuts and pie crust into preheated oven.
Bake for 5 minutes and start checking pecans, being careful not to scorch them. Remove after 5-8 minutes or when lightly toasted.
Remove crust after 10 minutes.
Combine the brown rice and agave nectar in a small bowl and add the hot nuts, tossing to thoroughly coat.
Spoon potato mixture gently into crust and arrange the nuts on top of the filling.
Bake about 30-35 minutes or until crust is lightly brown at edges.
Cool pie for at least 20 minutes before serving.
Which pumpkin pie should I make?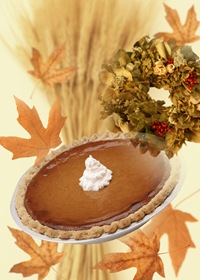 Over the years at This Mama Cooks! I've featured many pumpkin pies:
Going through my cooking magazines, I planned on making a Traditional Pumpkin Pie with a Fluted Crust from Martha Stewart Living, but I wasn't thrilled about having to buy light-brown sugar and evaporated milk just for the recipe. Instead, I've decided to make this pumpkin pie recipe from Body+Soul magazine since it seems a bit healthier.
Again, I'll be using gluten-free pie crust mix instead of making the crust from scratch. Also, I'll be substituting Stonyfield Farms Oikos Organic Greek Yogurt or their no-fat plain yogurt and agave nectar for the topping.
Pumpkin Pie with Wheat Flour Crust
Ingredients:
Crust
2/3 cup all-purpose flour
1/3 cup whole-wheat flour
1 teaspoon sugar
1/2 teaspoon salt
6 tablespoons (3/4 stick) cold butter, cut into pieces
2 teaspoons cider vinegar
2 tablespoons ice water
Filling
1 1/2 cups canned pumpkin puree (not pumpkin-pie filling)
2 large eggs
1/2 cup pure maple syrup
1/2 cup milk
1 teaspoon vanilla extract
1/4 teaspoon salt
Topping (optional)
1/2 cup reduced-fat sour cream
4 teaspoons to 2 tablespoons sugar
Directions:
To make the crust, in a medium bowl, stir together flours, sugar, and salt until combined. With a pastry blender or two knives, cut in butter until mixture resembles coarse meal with a few pea-size pieces remaining. Stir in vinegar and ice water until mixture just comes together (add more water if necessary). Wrap in plastic; refrigerate 1 hour.
Preheat oven to 375. On a lightly floured surface, roll dough out to a 12-inch round and fit into a 9-inch pie plate, making a fluted edge. Place on a rimmed baking sheet.
In a large bowl, combine pumpkin puree, eggs, maple syrup, milk, vanilla, and salt. Pour into unbaked pie shell. Bake about 50 minutes or until set, checking pie after 30 minutes and tenting edges if browning too quickly. Transfer pie to a wire rack to cool for an hour before transferring to refrigerator to cool completely.
To serve, in a small bowl stir together sour cream and sugar to taste. Serve pie with a dollop of topping, if desired.