Recently I did a review of  Jonny Bowden's book Healthiest Meals on Earth: The Surprising, Unbiased Truth About What Meals to Eat and Why
and his theory that "polymeals" cut the risk of heart disease and boost your overall health. (See my post, Healthy holiday polymeal cooking with the Healthiest Meals on Earth.)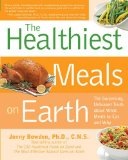 A polymeal is a meal composed of seven "magic" ingredients: red wine, chocolate, almonds, garlic, fish, fruits and vegetables. Dr. Bowden also endorses eating wild game because it's a high-quality protein with a complete complement of amino acids, low saturated fats, no trans fats, and a higher content of polyunsaturated fats, especially omega-3 fats. Wild game also contains natural ACE inhibitors that reduce blood pressure.
Our suburban hunting and farming lifestyle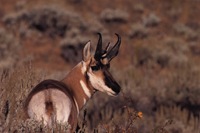 Did I mention that my husband hunts? Paul recently came home from a hunting trip to Wyoming with fresh pronghorn antelope meat. Now, most people in Wyoming will tell you that antelope meat is awful. We have no idea why because we love it. (Maybe it's something they tell out-of-towners to scare them away.)
Since it was a small animal, we processed the meat ourselves, cutting it into roasts and steaks, wrapping it in butcher paper, and freezing it. (It's not that gross, really. And it's much cheaper to do it yourself than to take it to the butcher shop.) Even the kids helped by cutting up meat to grind up later. We froze everything except for the backstraps (the filet mignon equivalent of wild game) and the tenderloin – the two best parts of the animal.
Did I tell you about the enormous blackberry bushes taking over our backyard? Before we processed the meat, Paul and the kids picked two huge bowls of blackberries – about 16 cups worth – from the bushes growing behind our garage. Hmmmm, maybe I could make a sauce for the meat.
I checked Joy of Cooking 
for sauce recipes and found one for a venison meat sauce that uses wine, shallots and sage. We had fresh sage in the garden so all I had to do was go to the store for some shallots.
Antelope tenderloin and backstraps with blackberry sage sauce
Antelope:
I marinated the antelope meat in a mixture of olive oil and Worcestershire sauce, and left it in the refrigerator for a few hours. To cook,  grilled it, first on high heat to sear the meat, then on lower heat to cook it until rare/medium rare.
There are two things you have to remember with venison: 1) It's very lean, so it cooks quickly. If you overcook it (medium plus) it dries out the meat and turns it to shoe leather. 2) If you cook something to the rare point on the grill, it continues to cook when you take it off the grill. So it's best to ever so slightly undercook the meat.
Sauce:
Ingredients:
1 tablespoon olive oil
1/4 cup chopped shallots
2 cups hearty red wine
3 cups chicken or vegetable stock
2 cups fresh or frozen blackberries
1/4 cup fresh chopped sage or 1 1/2 tablespoon dried
1 tablespoon honey or to taste (if your berries are sweet, use less honey)
salt and ground pepper to taste
Heat olive oil in a saucepan over medium heat.
Add and cook shallots, stirring, until very lightly browned.
Add wine, increase the heat to high and boil until reduced by half.
Add stock, berries, sage, honey, salt and pepper, and continue to boil until the sauce reaches a light sauce-like consistency. (It's very thin, so don't worry if it doesn't thicken up.)
Strain through a fine-mesh sieve, pressing the solids to extract all the liquid.
Serve warm.
Freeze leftover sauce.
I doubled the sauce recipe – we had a lot of berries – and froze four more dinners' worth of sauce.
Polymeal components:
venison
wine
garlic (shallots are close enough)
fresh vegetables and fruits – blackberries and sage plus we served it with fresh squash from the garden and organic red potatoes
This was an amazing meal. What made it memorable was that we harvested or hunted much of the food ourselves. What wasn't grown by us – the potatoes, shallots, vegetable stock and honey were either grown here in Colorado or organic.
Since the antelope was hunted in Wyoming, a four hour trip by car, it wasn't exactly the 100-mile diet. Still it was close enough…and delicious.