As part of their Lose for Good campaign, for every pound of weight lost with Weight Watchers between 9/7/08 and 10/18/08, Weight Watchers will donate the equivalent of one pound of food, up to $1 million to Share our Strength and Action Against Hunger.
(The cost of food will be calculated by each participating charity. Donations will be made 70% to Share our Strength up to $700,000 and 30% to Action Against Hunger up to $300,000.)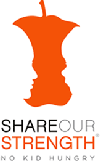 Pounds lost by Weight Watchers members will be determined by average weight lost per meeting attendance during campaign period multiplied by total number of attendances during campaign period. Pounds lost by online subscribers to WeightWatchers.com will be determined by total weight loss recorded in the Weight Tracker during campaign period. Weight losses are subject to the Weight Watchers healthy weight loss guidelines.

If this doesn't give you an incentive to lose weight and join Weight Watchers, I don't know what would. As their tagline says, Together we'll make a world a healthier place, one pound at a time. So why not come on board, get healthy and do some good?