August is here, which means that hunting season is starting and fishing trips to Mexico have been planned by Big Bad Dad. This means making sure that most of the venison and fish have been consumed before the next harvest comes in. This isn't too hard when you have a garden full of fresh herbs and product, and a smoker on the deck set up and ready to go.
Smoked Tuna with Sauteed Summer Squash and Zucchini
This is not a specific recipe, just a record of what I did. Since there is so much room to substitute ingredient, experiment, add your favorites, and most importantly have fun.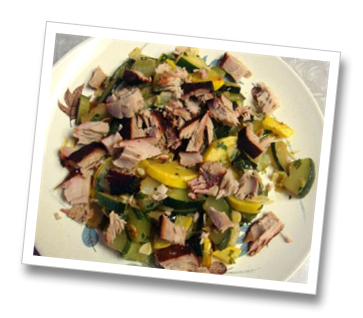 1. Take your tuna steaks and marinade for a few hours in the refrigerator in your favorite marinade. I used a store bought fish marinade from our discount market. It was O.K. but too spicy. I would have preferred something sweeter like teriyaki sauce. I also marinade the fish in a large freezer bag, but you can do it in a non-reactive bowl.
2. Get the smoker going and smoke the fish for a couple of hours. I'm not going into how to use a propane smoker grill
. There are good directions on ehow, and ezine articles. But if you have the chance to buy an inexpensive smoker grill
or borrow someone's, you'll fall in love with it. They're very easy to use, and not too much of a pain to clean. The only draw back is that you have to be at home watching it a bit, unlike a crockpot. Since smoking can take a few hours, you can plan to work on the yard or sit outside reading and working on your tan while you smoke.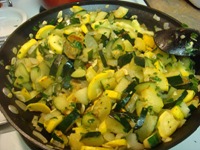 3. About 30 minutes before the fish is ready, chop up your squash and zucchini and some onions. My husband chopped up a couple of small onions, a very large zucchini and a big summer squash. It was so much that I had to use two pans.
4.  Heat up pan(s) add olive oil and vegetables. Sautee. Add herbs, salt, pepper, etc. to taste. I used sea salt and dried garlic seasoning from Costco. I didn't stir the veggies enough and a few browned and got a little crispy. A good accident!
5. From the garden, my husband brought in sprigs of parsley, Texas terragon, basil, and sage. I chopped up quite a bit of herbs, and wondered if I had too much. Luckily it was perfect. I'm not used to fresh herbs and don't realize that you can use a lot without overpowering the rest of the food.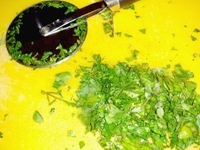 Also, I couldn't find my cool herb mincer
. Instead, in an act of desparation, I used my pizza slicer
, which is pretty darn sharp. It was easy to roll the wheel over the herbs to chop them up.
6. With sadness, we noticed that the fish wasn't very moist. The problem with smoking things the first time is that you're never really sure if you have cooked the meat or fish enough. We should have taken it off the smoker 30 to 60 minutes earlier. Since it was dry, I flaked it over the sauteed veggies on my plate, using the juice from the veggies to revive the fish. Delicious!