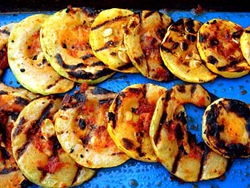 The zucchini and summer squash from the garden are piling up on the counter tops and threatening to take over the kitchen. What am I going to do with all these vegetables? Usually, I peel, chop them up in small pieces, and steam them. (I peel the ones from the garden since homegrown zucchini and squash seem to have much thicker skins.)
But that sounded boring, so inspired by Kalyn's Kitchen's post, Ten Delicious Zucchini Recipes for Everyone with an Abundance of Zucchini!, I decided to try a few new zucchini recipes of my own. Here's the first of two.
Grilled Zucchini and Summer Squash with Sun Dried Tomato Pesto
I like Kalyn's super easy Grilled Zucchini recipe since it's very simple – just Italian salad dressing and dried herbs. But I wanted to do something a little different. Seeing the jars of sun dried tomatoes in oil in my pantry gave me another idea – tomato pesto!
Empty contents of a small jar of sun dried tomatoes in oil into a mini-blender. Chopped up the tomatoes and oil until a kind of pesto paste is made.
Chop your zucchini and/or summer squash (I used both) into 1/4 inch slices.
Brush each side of the slices with tomato pesto and pile on a tray or cookie sheet.
Preheat grill to 300 degrees. (My grill's lid has a temperature guage. If yours doesn't, Kalyn says to, "Preheat grill to medium-high…so you can only hold your hand there for 3-4 seconds.")
Make sure grill is clean (use a wire brush to scrape off old charred bits so the slices won't stick) and spray grill with non-stick cooking spray.
Place zucchini on grill. Depending on how hot your grill is – 2 to 4 minutes – check for grill marks and flip. Brush zucchini with oil/pesto left over on your tray.
Cook for an equal amount of time.
Remove from grill and serve.
I love roasted vegetables and thought this dish was terrific. However, the rest of the family wasn't convinced and my husband said it was "too burnt." Fine, more for me.