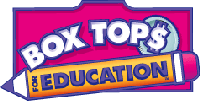 Earning cash for your school with Box Tops for Education makes it easy if you don't want the temptation of making bake sale goodies to raise money for your child's school. (See 5 Ways to Avoid Temptation During Bake Sale Season.)
By registering online through the Box Tops website and designating a school to support, you can shop at the Box Tops for Education Marketplace to earn money for your school. Some online merchants who encourage to eat and cook healthfully are:
Barnes & Noble (there's always a new cookbook or exercise book to buy!)
CHEFS
Cooking.com
eBags – for great insulated lunch bags
Magazines.com – great place to get your cooking, fitness and diet magazines at a fraction of the cost of regular subscriptions
The Box Tops for Education Marketplace has over 60 popular online merchants including Target, Wal-Mart, and Staples. Not only will you raise money for your child's school, you'll have another excuse not to buy the mega bucket of cookie dough this year.