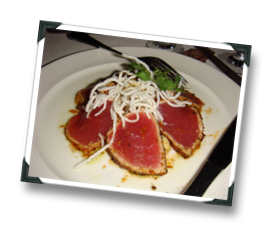 Not only was BlogHer 08 about great sessions, amazing speakers, and awesome swag, it was also about food. The food at the conference was so-so (Pastries and fruit just don't cut it for breakfast. We need eggs, cereal, and yogurt in the morning, too, please!) But the food activities around the blogging conference were impressive. Sponsors included Boca Burgers and the Milk Board and of course there was all the incredible food and drink at the parties.
Thursday
The first day I got to San Francisco, I checked myself into the Westin St. Francis's workout facility and spa. After I did my 45 minutes on the stationary bike and had my massage, I checked in, unpacked and tried to take a nap. I had been up since 2 a.m. San Francisco time, and was exhausted. Yet, I couldn't sleep because I was starving. Realizing I hadn't eaten anything since 10 p.m. the evening before, I got dressed and looked for a place to eat.
I found hana Zen and had a satisfying lunch of hot green tea, cold soba noodles, and some vegetarian tempura. Then the real eating and drinking began – the BlogHer speaker/presenter party with chicken satay on bamboo skewers and lots of other teeny delectables passed around on trays by waiters in white coats. Then I headed downstairs to hang out with the Mom Central team and the real eating began.
Stacy DeBroff of Mom Central took out her staff, which includes me since I now heading up their social media project. I forget where we went the first night, but we had a lot of Asian fusion type of appetizers and hot tea. And I had a plate of steamed rice, which I got teased a bit about. (I was overwhelmed by food and booze and needed something plain and grounding.)
Friday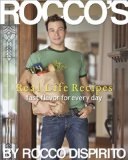 Then there was the lunch with Chef Rocco Dispirito who is promoting Bertolli Premium Pasta Sauce along with his book Rocco's Real-Life Recipes. Like Ragu's new pouch sauce, Bertolli's is sweetened with carrot juice. It was tasty, though we didn't get to try the pasta dish that Rocco cooked up and had boxed lunches from the hotel.
And Rocco? Handsome, charming, and a bit of a hard body. (I heard certain women were taking crotch shots. You know who you are!) I like Rocco's idea of using short cuts to make fabulous meals when you don't have time to cook. However, I thought he was a bit of a smart ass to Kalyn of Kalyn's Kitchen, but I guess Rocco managed to charm her anyway. Besides hanging out with Stef from A Year of Crockpotting, I didn't have much of a chance to spend time with the food bloggers this year. Go by Kalyn's blog to see her roundup of BlogHer foodie happenings and everything I missed. Too much to eat do and so little time!
The second night the Mom Central staff, friends, and clients went to Ana Mandara, which is across from the Maritime Museum and serves modern Vietnamese food. A gorgeous place with even more gorgeous food. I had the "Ebony and Ivory" dish – seared scallops, sweet black rice, with light kumquat marmalade sauce and asparagus. Fabulous! Of course, I forgot to take a picture of it and almost managed to lose my purse. I blame the wine, of course!
Saturday
Then there was the BlogHer party at Macy's – tables of cheese and crackers, Vialla Sandi Prosecco, Golden Star Sparkling Tea, and lots of little creations on trays and tables. Loved the tai noodles in the mini-Chinese take out cartons! However, by the time I got to the seventh floor, I was dazed, stuffed and confused having lost my camera and name tag (both quickly found thank goodness). So I grabbed a friend, found a couch, and talked, rested and digested until they kicked us out.
My BlogHer08 roommate, Jenette of Half of Me wrote that someone told her they should sell T-shirts that say I got fat at BlogHer. I totally agree.