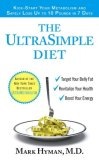 Last summer I read The UltraSimple Diet: Kick-Start Your Metabolism and Safely Lose Up to 10 Pounds in 7 Days by Mark Hyman, MD. One of his "secrets" for weight loss was stress reduction. This included meditation, reflection, and taking a hot bath each night to "detox" and relax.
Dr. Hyman believes that by taking a 20-minute hot bath before bed – and adding Epsom salts, baking soda and lavender oil to the water – you will lower stress hormone levels. He claims that by lowering your stress hormones, you can detox your body, boost your metabolism, and potentially lose weight. Wow, all this just from taking a hot bath! (You can read more about The UltraSimple Diet and Dr. Hyman at AOL Coaches.)
With a busy schedule and a demanding family, finding the 20 minutes to do this is nearly impossible for most moms. But if I had the time I would love to try it. And no, going in our hot tub is not the same. First, it's not relaxing having the kids diving jumping and splashing around you. Then there's the neighbors' dogs' who bark at you if you dare set a foot in your backyard. No stress reduction there.