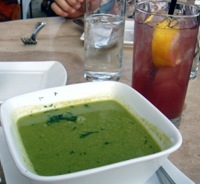 Paul and I went out to Sugarbeet for a Friday night date. We sat outside and watched the trains go by. (Sugarbeet is in an industrial area of town.) I had oysters on the half shell, a scallop ceviche, a pea soup with dill, and a raspberry lemonade cocktail (lemon juice, raspberry liquor, and a raspberry vodka) Fabulous!
Here's a recipe from Epicurious and Bon Appetit that comes close to the soup I had. Each portion is 4 Weight Watchers POINTS and seems very easy to make.
Split pea and green pea soup with fresh dill
Bon Appétit, December 2006
Makes 4 to 6 first-course servings.
Ingredients:
3 tablespoons extra-virgin olive oil
1 large leek (white and pale green parts only), chopped (about 1 1/2 cups)
1 bay leaf
1 cup green split peas, rinsed
5 3/4 cups vegetable broth, divided
1 cup frozen petite green peas, thawed
5 tablespoons chopped fresh dill, divided
Directions:
Heat oil in heavy large pot over medium-high heat. Add leek and bay leaf. Sauté until leek wilts, about 3 minutes.
Add split peas and stir to coat.
Add 5 1/4 cups broth; bring to boil. Reduce heat to medium-low.
Cover and simmer until split peas are just tender, about 35 minutes.
Remove from heat. Transfer 1 cup soup solids, bay leaf, and remaining 1/2 cup broth to blender.
Add petite peas and 4 tablespoons dill. Puree until smooth.
Return puree to soup. Season to taste with salt and pepper. Ladle into bowls. Sprinkle with remaining 1 tablespoon dill.
Nutritional analysis per serving:
190 calories,
7.4 g fat
7.5 g dietary fiber
7.5 g protein
Weight Watchers POINTS per serving = 4