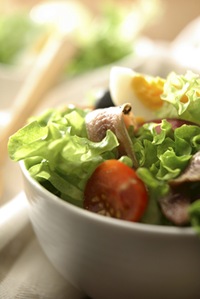 With supplements and DHA fortified milks from Horizon, there's no excuse not to get in your Omega-3s. Another good way is fish, of course. Since some of us aren't the biggest fish fans, a good way to disguise it is by putting it in a dish like Salad Nicoise. (I like fish, but I like Salad Nicoise even more!)
That's why I'm featuring this recipe from reader, Debbra S., who I hope to persuade to write a guest post some day. Debbra and her partner have been using Weight Watchers to help them lose weight. Debbra's lost 30 pounds and her partner more than 50!
Her recipe has a total of 18 Weight Watchers POINTS. Now before you freak out, Debbra says that it's really two very generous dinner portions. It sounds so delicious that even a non-dieting partner, friend or spouse would enjoy sharing this dish. Plus you'll both be getting essential Omega-3 fatty acids from the tuna and the anchovies. (Here's a listing of the essential fatty acids in fish.)
Debbra's Weight Watchers Salad Nicoise
Dressing
Puree the following in a food processor:
1 can anchovies in oil (Debbra says, "I LOVE THESE!! 1 point per can and you can also make an AWESOME Caesar dressing with them!" See below.)
1/2 cup loosely packed basil leaves (Debbra says, "Or to taste – I really like them so I add more.")
1/8 cup red wine vinegar
1-2 tsp. Dijon mustard
2 large (or 3 small) cloves garlic
1 small shallot
1 tsp fresh thyme
Salad
Boil the following (As a time-saver, Debbra puts in the green beans first then removes them with tongs. She then puts the eggs and potatoes in together and uses the tongs to avoid getting splashed with hot water.)
6 oz small boiled new red potatoes (sliced) (2 points)(about 12 minutes)
2 medium hard-boiled eggs (sliced) (4 points)
1/2 lb. boiled green beans (about 3 minutes) (Debbra adds, "If you can, spring for the haricots verts, which are more expensive.")
10 regular-sized olives (1 oz.) sliced in quarters (1 point)
1/4 c. capers
2 heads of Boston lettuce (or lettuce of your choice)
1 pint cherry tomatoes (sliced in half)
12 oz tuna steak (10 points), with lemon juice, salt/pepper to taste, grilled or pan-seared, then sliced
According to Debbra,

People present different ways – traditionally, the tossed salad would be in the middle with the other elements laid around the sides of a large platter. I toss the salad, then add the remaining elements, except for the sliced eggs and potatoes which are too soft to toss. Also, if you and your guest like different temperatures on the tuna steak, then you can lay those out whole and separate.
Weight Watchers POINTS = 18 (serves two)
Debbra's Caesar Dressing
In a food processor place:
2 cloves garlic
2 tsp. Dijon mustard
juice of one lemon
red wine vinegar (I use two tablespoons, but people should experiment because the lemon is already really acidic)
1 can anchovies in oil
2 tbsp. grated parmesan or romano cheese
salt/pepper to taste
Weight Watchers POINTS = 2 points and enough to cover 2 to 3 of the packaged hearts of romaine