Well I guess I should call this Guest Posting by Debbra S. Week, because she sent me another fabulous recipe – Roasted Corn and Grilled Shrimp. Not only does she give the Weight Watcher POINTS info, but it's a perfect dish for summer grilling.
As she writes,

"This recipe appeared in Food & Wine magazine and they credited David Bouley, the NYC chef, with originally serving it. I have revised the recipe somewhat, reducing fat, etc. Again, it may seem like a lot of points, but I serve it for dinner. I often make gazpacho with it which is filling and has hardly any points."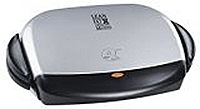 Debbra has cooked the shrimp in a pan, and on a George Foreman grill. George Foreman grills
ROCK! They're great presents for a grad on his or her way to college or for dad to take car camping or in the RV. We bought a counter top sized one for my mother-in-law to grill steaks since she didn't have a balcony to grill on in her seniors apartment building.
And they're great for dieters. You cannot believe how much fat cooks off your burgers, steaks, and chicken breasts when you grill them on a George Foreman grill. We have a platinum George Foreman GRP4P Next Grilleration 4-Burger Grill with Removable Plates
. The grill is a work of art and it does a great job quickly grilling up our food. Clean up is very easy too, just wipe it off with paper towels when it's still a little bit warm.
Roasted Corn and Grilled Shrimp Salad
Serves 2
Weight Watchers POINTS = 14 points total or 7 per person
Ingredients:
2 tablespoons (separated at 1 Tbsp and 3 tsp) extra-virgin olive oil (2
points)
2 ears of corn, kernels cut from the cob (2 points) Debbra says, "I have also used 2 points worth of frozen corn – about 1 cup. I find cutting the kernels off the cob to be challenging. Canned corn does not cut it, though. I am not normally a snob about canned corn, but all of the other ingredients here are so fresh that the contrast is jarring. Similarly, the fresh tarragon makes the recipe and if you can't get it, I would not substitute dried."
1 pint grape tomatoes, halved lengthwise
1/2 small red onion, thinly sliced lengthwise
1 tablespoon chopped flat-leaf parsley
1 tablespoon snipped chives
1 1/2 teaspoons coarsely chopped tarragon
1 tablespoon white wine vinegar
Salt and freshly ground pepper
12 oz. shelled and deveined large shrimp (6 points)
1/2 teaspoon finely grated lemon zest
1 tablespoon fresh lemon juice
1 bunch watercress, thick stems discarded (I often use 2 bunches)
Directions:



Light a grill.
In a large skillet, heat 1 tsp. oil and PAM cooking spray. Add the corn kernels and cook over high heat, stirring, until they are softened, about 4 minutes.
Transfer the corn to a bowl and let cool.
Add the tomatoes, onion, parsley, chives, tarragon, vinegar and 1 tablespoon of olive oil and season the corn salad with salt and pepper.
In a bowl, toss the shrimp with 2 tsp. of the olive oil and season with salt and pepper.
Grill the shrimp over high heat, turning once, until pink and curled, about 3 minutes.
Transfer to a bowl and stir in the lemon zest.
In a large mixing bowl, stir the remaining 1 tablespoon of olive oil with the lemon juice and season generously with salt and pepper. Add the watercress and toss in the dressing to coat.
Transfer the watercress to a large serving platter. Top with the corn and tomato salad and the grilled shrimp and serve right away.