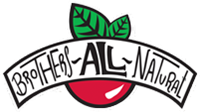 Having two ravenous kids, I'm always on the lookout for healthy, guilt free snacks. So when the folks at Brothers-All-Natural offered to send me samples of their potato and fruits crisps, I jumped at the chance.
Brothers-All-Natural crisps are perfect for car trips, camping, and packed in your lunch. They're also safe for people with food allergies since the crisps are peanut and tree nut free, dairy free, gluten free, soy free, wheat free, non-GMO, vegan, and kosher.
They're available at Costco and are in the 75 cents to $1.19 range per bag. The bags are small – .42 oz. for the potato crisps and .26 to .59 oz. depending on the variety of fruit.
Fruit Crisps


Brothers-All-Natural Fruit Crisps is freeze-dried and made without any added sugars, preservatives or chemicals. They test for pesticides, heavy metals, etc. on every single batch and claim to have a very secure raw fruit procurement system that maintains the safety of our products.
The Fruit Crisps provide two servings of fruit in each single-serve pack, and are available in seven flavors including Fuji Apple, Asian Pear, and Strawberry-Banana. (Click here for nutritional information.)
Potato Crisps
Brothers-All-Natural uses a freeze drying process that brings the freshly sliced potato to a crisp. The freeze-drying process also locks in all the healthy nutrition naturally found in potatoes. They're available in four flavors. (Click here for nutritional information.)
My Review
The crisps are, for lack of a better term, interesting. They remind me of those funny Asian puffed shrimp crackers that sort of melt in your mouth. You get some flavor, but it seems like you're eating little styrofoam bits of food. They're hardly substantial enough to make you feel full even after consuming several bags worth – which I did unfortunately.
My final verdict? They're tasty enough and I enjoyed their unique texture. However, they were just in the "fun to try, but not something I'd buy regularly" category. Why? First, the kids didn't like them because the flavors and textures were just too weird for them. Second, the crisps are too expensive. While they're convenient and guilt free, it's cheaper to bag up some grapes, sliced apples, or organic blue tortilla chips.
Sorry, but no matter how guilt free and healthy something is, if it's not appealing enough to my kids, I'll have to pass.