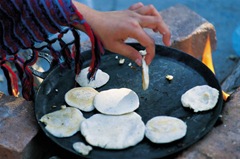 I recently wrote a Recipe Roundup for Foodie Review on Swiss Family Recipes. If you have a soft spot for fondue, you may want to check it out. On the other hand, you may want to avoid it if it's too tempting.
My next assignment from my FoodieView Blog editor is healthy Mexican recipes. I have a few dishes and tips in mind but would love to get some recipes and pictures from my fellow food bloggers.
If you have a post on a low calorie/low Weight Watchers POINTS Mexican food recipe or show a way to make your favorite Mexican dishes healthier, email me at mama at thismamacooks dot com or leave a comment below with your name, email, your blog's name URL, and the URL of the post.
I'd love to feature your post, your picture(s) and of course will link back to your blog and give you full credit.