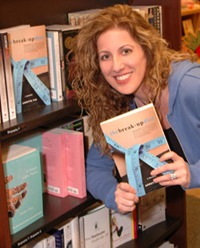 Before you get all excited, The Break-Up Diet is a memoir not a new diet book. By Annette Fix, the senior editor of WOW! Women On Writing, the book is a true story of a 30-something single mother and aspiring writer who is working as an exotic dancer, searching for Prince Charming, and trying to find a perfect balance between her dreams and her day-to-day life as super mom.
Why Should You Read The Break-Up Diet?
The Break-Up Diet deals with an issue all overweight people have in common – emotional eating. Oprah said that when we overeat, it's like we're "eating our emotions."
What are your emotional triggers that cause you to over eat? What can you do instead of eating to make yourself feel better?
When I overeat, it's a moment to take care of myself when I'm feeling tired, stressed, or upset. I have to force myself to get my butt out of the kitchen, and find another way to take care of me, whether it's exercising or taking time to enjoy a movie or good book.
Finding Laughter in Your Weight Loss Journey
I hope The Break-Up Diet will help you find a lighter side in weight loss self-discovery. You may also want to check out Annette's website, www.thebreak-updiet.com, where you can sign up for a free companion book or print out a reading group discussion guide for your book club.
Annette also has a Break-Up Story Forum at www.mybreakupstory.com. It's a place where you can read and share your break-up and dating stories. Check it out and join in the fun! And if that isn't enough, check out Annette's Break-Up Diet blog and her Break-Up Diet MySpace page. (Does this woman have her social media down or what?)
A Sample Weight Loss Recipe
When Annette emailed me about the book, I noticed it had recipes. I love books with recipes! I asked for her to share some for my post. Well, she must have had a good laugh at my expense because The Break-Up Diet doesn't contain traditional recipes. In fact, they're more like thought pieces. Here's a sample:
doubt cake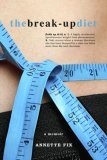 2 lovers, separated
1 unbleached cellular phone bill, well-sifted
1 imported woman's phone number
8 oz. unsweetened excuses
1/2 cup suspicion
1/4 cup distrust
Beat 1 lover with anxiety until stiff, then boil in betrayal until
completely softened to tears.
Blend suspicion and distrust, sprinkle liberally with excuses.
Pour mixture into pan greased with intuition.
Bake until frustration sets.
Serve cold. Topped with crushed nuts of ex-boyfriend, if regionally
available.
Yield: Overall queasiness.
Unlimited servings.
Nutritional Value: None.
Guaranteed 3 lb. weight loss.
True or what? The Break-Up Diet: a memoir by Annette Fix goes on sale tomorrow – check it out.