This year my mission is to "blog-evangelize" or spread the word on why blogging is such a powerful tool. I mostly talk to writers on how to use blogging to promote their work. But why shouldn't blogging be used by those trying to lose weight and get healthy, too?
Here are 5 reasons to incorporate blogging into your weight loss journey: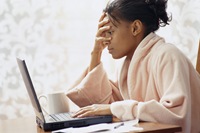 1. Exploring your emotions. Tracking what you eat, how many times you work out, and your weight is one thing. Blogging about how you feel – your emotions – can help you discover the triggers that cause you to overeat. Blogging is also a way to help you figure out why you have the relationship you do with your body and food.
So why use a blog? It's just as easy to write in a notebook, right? This leads me to my next couple of points.
2. Convenience. If you're like me, you live your life online. You're constantly emailing people, Googling or shopping online. Maybe you use an online service to plan your family's meals, like Menu Planning Central. Or you could be doing your weight loss using dieting sites like Weight Watchers or SparkPeople. What ever the case, you're already online. Why not do your self-discovery there, too?
Now I can hear a few of you saying, "My online diet plan comes with a blog! I can journal there." That's great, but what happens when you leave the diet site because it's too expensive or not working out for you? All the self-exploration you blogged about is gone unless you print it out or transfer it. What a pain! Instead, blog at a FREE service like WordPress.com or an inexpensive service like TypePad
where this blog is hosted.
3. Public accountability. Another problem with blogging on a membership dieting site is that it can only be read by other members. Your outside support team – friends, coworkers, and family – can't read your blog. You may think that's a good thing, but I don't. To successfully lose weight and get healthy you need to be accountable and "out there."
Also, your support people need to know what's up with you so they can help you out. If I saw on my friend's blog that he was upset about not losing weight that week, I would try to leave him a few words of encouragement. Also, when your best friend lives half way across the world, blogging helps get the word out that you need her help.
4. Building community. An advantage of your blog being on the Internet for everyone to read is that you meet people who are going through a similar journey. They can offer encouragement, tips, recipes, and a few laughs.
You never know. You may get really serious about blogging and want to meet your online friends at conferences like BlogHer. It's where I got to meet diet bloggers Carmen of The ELFF Diet and Jennette Fulda a.k.a. PastaQueen of Half of Me. I also got to meet Jillian Michaels of The Biggest Loser thanks to a lunch sponsored by AOL. Who knows who'll I'll meet at the next conference?
5. Helping others. Amy Gahran says at her blog, Contentious.com sometimes vulnerability can be your greatest strength:
"So rather than whine about setbacks or difficulties, use them as an opportunity to engage your community in helping you find solutions. Open yourself up to their ideas. Be willing to be influenced by them…"
Blogging is two-way conversation. Not only can people help you, but you can reach out and offer assistance. It's a great feeling that as you shrink, you'll "grow" as you help others by sharing your story and wisdom.
With this all said, if you're interested in learning more about blogging, contact me and I'll email my beginning blogging handout tha I use when I speak to writer's groups. I also recommend taking Wendy Piersall's E-Moms at Home 10 Days to a Better Blog: blog traffic e-course.
Now get blogging!
For more tips, check out my other Five Things and Ways advice articles.
(This post was inspired by Reason-4-Smile's post Seven benefits of blogging to your personal growth.)