All moms know how wholesome Cheerios are. Often, it's the first finger food we give our kids. So when General Mills contacted me to review their new Cheerios Snack Mix product, I was willing to give it a try.
Ingredients
Cheerios Snack Mix isn't as wholesome as they claim in the press release. General Mills states:
Cheerios® Snack Mix includes MultiGrain Cheerios® cereal, Chex® pieces, pretzels, crackers and seasoning to create a whole-grain, cereal-based snack in Original and Cheddar flavors. Cheerios Snack Mix offers nutrition benefits and great taste to the snack aisle, with 8 grams of whole grain per serving and 60 to 65 percent less fat than regular potato chips.
Funny how they left off the partially hydrogenated oils from the press release. It's clearly stated on the package. I thought leaving out hydrogenated oils - and advertising that fact on your packaging - was the in thing to do right now. What gives?
Nutritional Information
The nutritional info doesn't impress me either. It's low in fat and calories, but has a lot of sodium in it. Otherwise, it's nothing special.
Per Serving - Original Flavor - Serving size: 2/3 cup
Calories 120 | Calories from Fat 30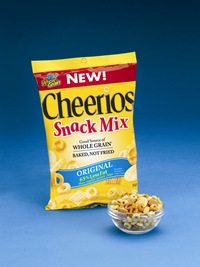 Total Fat 3.5 g
Saturated Fat 0.5 g
Trans Fat 0 g
Cholesterol 0 mg
Sodium 330 mg
Total Carbohydrate 21 g
Dietary Fiber 1 g
Sugars 2 g
Protein 3 g
Vitamin A 0%
Vitamin C 0%
Calcium 4%
Iron 30%
Taste
It's OK, but not great. In fact, I would advise you to make your own snack mix. Look for organic, whole grain, or regular pretzels. You should be able to find a few brands that don't use hydrogenated oils. Check the labels to make sure they don't even use a minimal amount. You should be able to find them at your regular grocery store. If not, check what your local health food store has.