This is very close to Cornbread Stuffing with Dried Cranberries recipe from Weight Watchers that I posted back in 2005. I wrote last week that I was going to make it Thanksgiving. Now I've changed my mind seeing that this recipe for Sausage, Apple and Cornbread Stuffing has only 2 Weight Watcher POINTS per serving.
The only problem for those of you dieting and following Weight Watchers is since the stuffing recipe makes 12 servings, you'll have to guesstimate how much to put on your plate for your 2 POINTS worth. I don't like when Weight Watcher recipes do this. Instead, I like it better when a recipe says something like 1 cup = 2 points. Much easier to figure out.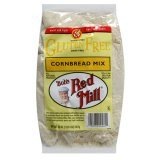 Since I was planning to make Cornbread Stuffing with Dried Cranberries, I went out and bought two bags of Bob's Red Mill Gluten-Free Cornbread Mix
so my mother-in-law can eat it, too. (No gluten for her). Instead, I will make one batch of cornbread and substitute 8 oz. of that for the stuffing dry mix.
Also, I'm thrilled that I already have all the ingredients on hand. Now I don't have to buy dried cranberries! I'm going to double it as well since I love leftover stuffing, too. (I like stuffing better than the turkey, don't you?)
Ingredients
8 oz raw turkey sausage (I'll be using the venison breakfast sausage we had made from last year's hunt)
2 Tbsp apple juice
1 tsp butter
1 medium onion(s), chopped
2 medium celery, chopped
2 medium apple(s), cored and diced
1/4 cup parsley, chopped
2 Tbsp thyme, chopped or 1 tsp dried
1 Tbsp poultry seasoning
8 oz cornbread stuffing dry mix (I will make a batch of gluten free cornbread, let it cook, then cut it up in crouton sized pieces. I'll put the bread on a baking sheet and cook it back in the oven until a dry and a little crispy.)
1 1/2 cup canned chicken broth, hot
1/8 tsp table salt, or to taste
1/8 tsp black pepper, or to taste
Directions:
Coat a large, nonstick skillet with cooking spray; place over medium heat.
Remove sausage from casing; add sausage to skillet and cook, breaking up into small pieces until no pink remains. Add apple juice and simmer, stirring constantly, until liquid evaporates. Remove sausage to large bowl; set aside.
Melt butter in skillet. Add onion and celery; sauté until translucent, about 8 minutes. Stir in apples, parsley, thyme and poultry seasoning; cook about 3 minutes.
Add stuffing to skillet; stir in enough chicken stock to moisten stuffing as you like it. Add to bowl with sausage; stir in enough chicken stock to moisten stuffing. Season to taste. Yields 3/4 cup per serving.
Check out more Thanksgiving and Weight Watchers recipes at This Mama Cooks! On a Diet.