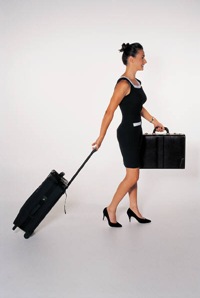 (For more Five Things/Ways advice articles, click here.)
I leave tomorrow for BlogWorld Expo 2007 in Las Vegas. Since I hurt my knee, I'm more concerned about keeping myself from walking too much. Nothing like walking around exhausted with a big ol' limp. However, if I wasn't injured, I'd be looking for ways to get a work out in.
Here are five ways to keep fit on the road while you're traveling for business or pleasure.
1. Walk whenever you can. Instead of sitting around the gate waiting for your flight, take a fast paced stroll around the terminal. (There's lots of people running for their flights, so don't worry about looking silly.) You're probably wearing comfortable shoes already, but maybe you'd want to bring a pair of walking shoes or sneakers, too. (If you're traveling with kids this is a great way to tire them out.)
If you're driving long distances, get out of the car every few hours and walk briskly around a parking lot or rest area. Not only will it get you moving, walking will energize you and keep you alert behind the wheel.
If you're in the city, skip the taxi and walk whenever possible. Plan activities that require walking like going to a museum, taking a city walking tour, or climbing a few flights of stairs to your business meeting. If you're staying with friends, offer to walk their dog.
2. Stay at a hotel with a workout facility. Even small hotels have workout rooms, but some may not worth a visit. Go to tripadvisor.com and find out if the hotel's workout facility is any good. If not, find out if the gym you belong to has a branch in that city.
Another alternative is working out at the local Y, university athletic facility, or rec center. See if you can book a room nearby. If you're a jogger, stay at a hotel near a park with a jogging path. Ask your hotel's staff what are the safest times to run there.
3. Exercise like you're at home. Just because you're on a trip doesn't mean you can't stick to your normal exercise routine. Get up at your normal time and hit the gym or go for a jog. If you normally take a yoga class every Thursday after work, see if there's a studio by your hotel. Most places allow for drop ins, but call first to make sure there's room.
4. Bring your exercise gear with you. No "accidentally" forgetting your sports bra! If you bring your workout clothes, you'll be motivated to stick with your exercise plan. Don't forget your sports bottle, a small towel, and your sneakers, too! (Sneakers taking up too much room in your suitcase? Wear them on the plane instead.)
5. Get creative and treat yourself. If you're in the middle of nowhere and the staff says, "What's a treadmill?" you'll have to get creative. If you have a laptop, use it to play an exercise DVD that you can do in your room. Or bring your yoga mat and use The Yoga Deck: 50 Poses & Meditations for Body, Mind, & Spirit
to motivate you through a series of poses. If you have a video iPod and download some workout videocasts.
If you're traveling to a hip location, you may want to try the latest in exercise classes – laughter yoga anyone? A vacation is a great time to treat yourself to a lesson with a golf or tennis pro if you're staying at a resort. Or plan your trip around participating in a 10k or charity walk. (My sister does this.) Not only will you be doing yourself some good, but you'll be helping out a cause.
What other ways to you stay fit on the road? Share below!