For some reason, I've been getting Weight Watcher's e-newsletter. I'm guessing it's because I used to be an online member and they want me back. How nice of them. (You can sign up for the newsletter here. They have great recipes for anyone trying to lose weight or eat healthy.)
I love making butternut squash and onion soup. But when I saw this recipe for Butternut Squash Salad with Curry-Appple Dressing, I had to try it – especially since it's only 4 Weight Watchers POINTS. I think this would go well with a roasted chicken breast or a pork chop. I'll be serving it with the grilled venison chops I found in the freezer this week. (Nice surprise as I thought we ate all the steaks this summer.)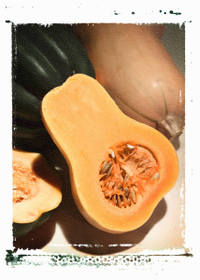 Butternut Squash Salad with Curry-Appple Dressing
I'm very intrigued on how Weight Watchers has you roast the squash. Usually you cut them lengthwise, as shown in the picture, remove the seeds, then roast them flesh side down.
Ingredients:
2 Tbsp vegetable oil
2 Tbsp apple juice
2 Tbsp apple cider vinegar
2 Tbsp red onion(s), chopped
1 tsp curry powder
1/2 tsp sugar
1/4 tsp table salt
1/8 tsp black pepper
1 Tbsp parsley, fresh, chopped
Directions:
Preheat oven to 400°F. Line a baking pan with aluminum foil.
Cut squash in half crosswise where it starts to widen (where the round "bulb" meets the "neck"). .
Place both pieces of squash cut side down in prepared pan. Bake until bottom half of squash is just tender when pierced with a fork, about 20 to 25 minutes; remove bottom half from oven and set aside. Bake top half of squash until just tender, about 15 minutes more. Remove from oven and cool.
Meanwhile, combine remaining ingredients in a small bowl; set aside.
Peel and seed cooled squash; cut into 3/4–inch cubes. Place in a serving bowl and toss with dressing. Yields about 2/3 cup per serving.
If you're a fan of butternut squash soup, check out this recipe for Roasted Autumn Vegetable Soup – only 2 POINTS per serving. I bet you could get it even lower if you used veggie broth and skipped the evaporated milk. Really, root veggies are so yummy you don't need to add extra flavor or creaminess to enjoy them.