(For more Five Things/Ways advice articles, click here.)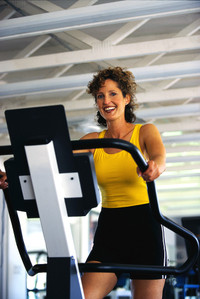 I don't go to a gym. Instead, I work out at home or at a dance studio. But I notice new workout facilities popping up like crazy around town. Here's some advice on how to save money at the gym.
1. Don't sign a contract! Gym memberships are a rip off unless you go every day and take advantage of all the benefits – steam rooms, classes, pool, and so on.
Plus, we're all human. After those initial first weeks or months, our gym participation will slack off. Maybe you'll injure yourself or want to take the summer off to jog outside. Find out if there an alternative to signing up for a year (or more) membership.
2. Pay a drop in fee or use a punch card instead. Do the math. Is it cheaper to pay by the workout if you only go twice a week vs. getting a yearly membership? This is what my husband does since he uses the rec center by his workplace two to three times per week. When he's not working, he uses his weight set in the basement or goes to the rec center by our home to swim.
3. Find alternative gyms – and try them out. You don't have to join a chain club. Instead consider the Y, a local rec center or a college fitness facility. Sometimes these are cheaper and have discounts for alumni and residents. However, if you travel, a chain may be better if you plan to work out while you're on the road.
Most facilities offer a "try before you buy" and let you work out for free or drop in on a class. Are you able to use the equipment or is there a line when you're there? Are the classes overcrowded? If you're a woman, do you prefer a "ladies only" club? Is the facility clean? Don't just take a tour – stay awhile and work out!
4. Get your workplace to help. Ask your HR department if your company has a discount at a local health facility. If not, work up a plan and present it to your boss and the head of HR. Companies are finally seeing the benefit of employees taking control of their health and exercising. Take advantage of this!
If you travel for business, make sure that you're booked into a hotel with a decent workout facility. (Use a site like TripAdvisor for hotel health facility reviews.) If you have to pay extra to use the facilities, get reimbursed by your company! It's important that they support your efforts in staying healthy. After all, if you were home, you wouldn't have to pay extra to work out.
5. Get a part-time job. No, not one just to pay your membership dues. Instead, get a job at your local workout facility. Many offer employees free use of equipment and membership or class discounts. You don't have to be a personal trainer to work at a gym. You can answer phones at the front desk, open mail in the office, or work in the child care room.
What ways do you save money at your gym? Share by commenting below!