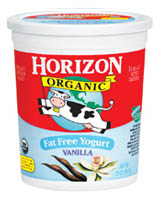 Do you have a favorite brand of fat free yogurt? I've been buying Horizon's Organic Fat Free yogurt at Costco. My family is a big fan of their low fat blended yogurts. It's the closest thing to full fat European-style yogurt that we've found here in the States.
I could do a Five Things/Way post just about plain fat free yogurt because it's so versatile. You can use it as a substitute for sour cream. You can make a smoothie out of it. Combine it with fruit and freeze as a homemade frozen yogurt. Use it to make Greek Feta Chicken. I like it with Kashi puff cereal and fruit for breakfast, too.
Here are a couple of ways I've been enjoying it on the Extreme Fat Smash Diet:
Breakfast Yogurt with Apple
I made this recipes up myself one morning since I was given a breakfast choice of a bowl of yogurt and a fruit.
Ingredients:
1 cup no fat plain yogurt
1 small apple shredded
1 packet Equal or other sugar substitute
Combine ingredients and serve.
You could also add a dash of cinnamon. I like the apples uncooked since they're crunchy and an interesting combination with the creamy texture of the yogurt. But you could bake/steam the apples before adding them to the yogurt, too.
Nutritional Info (1 cup yogurt):
Calories 180
Fat 0g
Carbohydrates 33g
Fiber 0g
Protein 9g
Weight Watchers POINTS = (including apple) 5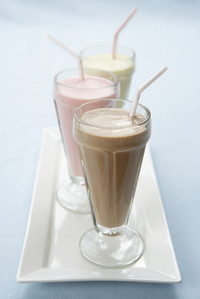 Ingredients:
1 medium banana
6 oz. low fat vanilla yogurt (I used 8 oz. fat free plain yogurt)
4 fl. oz. skim milk (I used vanilla flavored light soy milk)
4 ice cubes
Directions:
Slice banana and place in blender.
Add yogurt and milk.
Blend until ice is crushed.
Nutritional Information:
Calories 295
Fat 2.5g
Carbohydrates 56.9g
Fiber 3.1g
Protein 14.2g
Weight Watchers POINTS = (using low fat vanilla yogurt and skim milk) 5