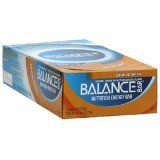 Leslie at The Weighting Game has the posted the first part of her series "Raising the bar" on her blog. So far she's reviewed bars by Kashi, Attune, Ecco Bella, LUNA, and SoyJoy. Check it out!
Except for Kashi and LUNA, I've never heard of the rest. Maybe that's because I stick with the bars I like such as Kashi GOLEAN! Roll Bars and Balance Bars (especially the peanut butter ones - yum!)
Lately, I've fallen in dieting love with the the Kashi GOLEAN! bars because they're impervious to the summer heat and don't get smooshed in your purse. It's a little embarassing to lick a melted Balance bar off it's wrapper in public, don't you think?
UPDATE: Raising the Bar, Pt. 2 has been posted.
Do you have a favorite nutrition bar? Or do you think they're gross and a big waste of money?