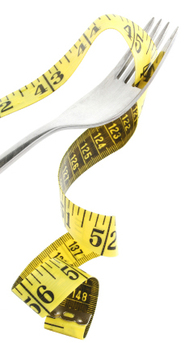 Week seven on the Extreme Fat Smash diet was challenging. After six weeks, I was getting tired of the diet, tired of being "good," and just plain tired. And when I'm tired, I eat.
I ate stuff on the plan, but lots of it: nuts and cereal with milk. What is it about me that needs to eat mindlessly? Is it mentally relaxing to let my guard down? Or am I just indulging myself and filling an emotional need with food?
Either way, I suffered physically for it. All that fiber and lactose…well, let's say I didn't venture far from the bathroom yesterday, had terrible cramps, gas, bloating…the whole nine yards.
But I kept up with my workouts and got right back on the plan even though I had a day-long tummyache.
Week Seven Results
For someone who fell off the wagon, I lost another 1.2 pounds and a couple of belly inches. My original goal was to be down 20 pounds by the Blogher conference next week. Instead, I'm at last year's goal of losing 10 pounds by the conference. Ah, the irony.
Ch-ch-ch-changes
During check in I got this message during my check in on the Celebrity Fit Club site:
Periodically we adjust your caloric level based upon the weigh-in data and eating habits you have reported.

We have DECREASED your daily caloric target to speed up your weight loss and meet your target weight loss rate.
What took them so long? The most I've ever lost in one week was 2 pounds. And my weekly goal has always been 2.4 to 3.2 pounds. That's the problem with online plans. You're at the mercy of the programming. If it has flaws – and Celebrity Fit Club online does have minor ones – it can be frustrating.
Challenges for Week Eight
I leave Thursday for Chicago, and there's just no way to do be on the Extreme Fat Smash diet without a kitchen. So I'll stick to salads, fruits, lean meats, skim milk, etc., and will bring a few Balance Bars with me just in case. I'll also try to have small, healthy snacks every three hours.
My hotel has a workout facility, so I'm planning to get in my 45 minute stationary bike rides on Saturday and Sunday. Also, I'll be missing a yoga class on Friday, so I'll try to fit in a class on Monday.
This Week's Numbers
From the body fat estimator:
Waist size at narrowest point: 30"
Waist size at your naval: 34"
Hip size at widest point: 41.5"
Neck at narrowest point: 13.5"
Height: 5′ 3"
Weight: 151.2 lbs
Using your measurements of a 30 inches waist and weight of 151 pounds your body fat percentage is estimated to be 33.44% using the U.S. Navy body fat formula, or 34.41% using the formula developed by the YMCA.
Week one's results were 39.30% using the U.S. Navy body fat formula, or 40.10% using Y's formula. I've dropped 6% body fat so far!
I thought I'd start including BMI numbers as well.
My starting BMI: 28.6
My current BMI: 26.8 (still in the overweight range, but improving)