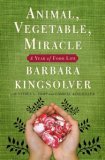 I've been listening to Barbara Kingsolver's Animal, Vegetable, Miracle: A Year of Food Life
on CD in the car as we drive around town. It's been even more inspiring than The Omnivore's Dilemma: A Natural History of Four Meals
and Plenty: One Man, One Woman, and a Raucous Year of Eating Locally probably because Kingsolver gets the whole working/harried mom trying to feed her family nutritious, delicious and practical food thing.
As a result, I'm trying to buy organic and free trade whenever possible on food items I cannot get locally. We're hitting the farmer's markets and local farms. My husband Paul (aka Big Bad Dad) has planted a couple of above ground garden boxes for tomatoes and peppers. (We already grow our own hops for homebrew and strawberries, raspberries and blackberries.) I've also signed up for milk delivery from a local dairy that doesn't use growth hormones.
Kids Love Pizza
In her book, Barbara talks about their Friday night pizza making. I love to make pizza but am always dough challenged. Not only do we have the elevation issue (we're over a mile up) but my dough is either too dry or too sticky. I thought I'd give the Kingsolver's pizza recipe a try figuring it has to be practical, easy and reliable since they make it every Friday. Plus it's fun to make with the kids.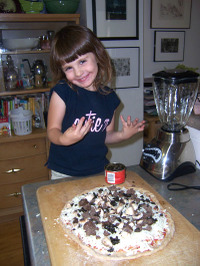 Friday Night Pizza
(Makes three medium pizzas or two large ones)
Dough ingredients:
3 tsp. yeast
1½ cups WARM water
3 tbs. olive oil
1 tsp. salt
2½ cups white flour
2 cups whole wheat flour
Toppings:
tomato or spaghetti sauce
shredded mozarella cheese
veggies, meat, etc. – we used sliced black olives, Italian sausage, mushrooms, ham, and pineapple
Directions:
To make crust, dissolve the yeast into the warm water and add oil and salt to that mixture.
Mix the flours and knead them into the liquid mixture. (I used my Kitchen Aid mixer and dough hook.)
Cover and let dough rise for 30 to 40 minutes.
Once the dough has risen, divide it in three and roll out using a rolling pin on a clean, floured countertop or wooden cutting board. Use your fingers to roll the perimeter into on outer crust as thick as you like.
Using spatulas, slide the crusts onto a baking stone or pizza peel (we did both) and spread toppings.
First put a light layer of tomato or spaghetti sauce over crust first, then the cheese, then the toppings. (The Kingsolvers use caramelized onions and cooked peppers, which sounded wonderful. Our kids are more into ham and pineapple pizza though.)
Bake pizzas on a pizza stone at 425° for about 15-20 minutes until crust is brown and crisp.
And yes, even though I'm on the Celebrity Fit Club Extreme Fat Smash diet, I was able to have some pizza, too. (Click here to see my pizza and kiwi dinner.)