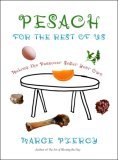 In Pesach for the Rest of Us: Making the Passover Seder Your Own
, author Marge Piercy shares with us how she creates her own Passover seder with a group of family and friends. In her journey through the ritual, Piercy coaxes us toward a contemporary interpretation, rethinking what is traditional, and opening the celebration to non-Jews.
Piercy also provides dozens of her own poems, blessings and recipes, including this one for cinnamon lamb. This sounds good enough to eat any time that lamb is on sale.
Cinnamon Lamb
Ingredients:
leg of lamb
3 eggs
3 Tbsp. potato flour or fine matzoh meal
black pepper to taste
1 tsp. cinnamon
1/2 tsp. cloves
1/2 tsp. salt
finely chopped parsley, basil or mint - or a combination
juice of 2 lemons
Directions:
Score the lamb.
Beat the eggs and then mix all the other ingredients.
Fill the cracks and cover the outside of the lamb with the paste made from the above items.
Let sit for half an hour.
Roast normally. (See recipetips.com for lamb roasting instructions.)