I was eating soup at a restaurant the other day and realized what I thought was rice was barley, which was much more healthier and higher in fiber. I should use it more often. This recipe from Sunset magazine's January 2007 article on Soup Socials is a good start. It combines a classic split pea soup with one for beef and barley soup.
Best of all, one cup is only three Weight Watchers Points - so low you could treat yourself to several bowls and a glass of wine for dinner.
Split Pea, Beef and Barley Soup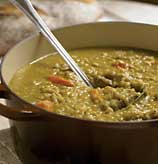 From Sunset magazine, January 2007 issue
Prep and Cook Time: 2 hours, 45 minutes
Yield: Makes about 8 quarts
Serving size: 1 cup
Ingredients:
2 tablespoons olive oil
2 pounds beef chuck, trimmed of excess fat and cut into 1 1/2-in. pieces
5 teaspoons coarse kosher salt
1 tablespoon freshly ground black pepper
4 large onions, chopped
1 leek, finely chopped
2 parsnips, peeled and chopped
5 stalks celery, chopped
2 cups green split peas (one 16-oz. package)
3/4 cup dried baby lima beans
3/4 cup pearl barley
5 carrots, peeled and cut diagonally into 1-in. pieces
Directions:
Heat oil in a 9- to 10-qt. pot over medium-high heat. Season beef with 1 1/2 tsp. salt and 1 tsp. pepper, then brown on all sides in two batches. Set aside.
Add onions, leek, parsnips, celery, and remaining 3 1/2 tsp. salt and 2 tsp. pepper. Cook, stirring often, until onions soften, about 5 minutes. Return beef to pot and add split peas, lima beans, and 4 qts. water. Increase heat to high and bring to a boil. Reduce heat to a simmer and cook, uncovered, 1 hour, stirring occasionally.
Add barley and simmer 45 minutes. Stir in carrots and cook 20 minutes more. Season to taste with additional salt and pepper.
Nutritional information
CALORIES 155 (19% from fat); FAT 3.3g (sat 0.9g); PROTEIN 11g; CHOLESTEROL 18mg; SODIUM 401mg; FIBER 3.8g; CARBOHYDRATE 21g