The wonderful thing about soup is how good it makes you feel on winter days. It's a wonderful dish if you're sick or just tired and cold from shoveling the driveway. And it's terrific for entertaining, too.
In their January 2007 issue, Sunset magazine did a feature on the Soup Social. You can make the soups ahead of time and reheat the night of the party. Just serve soup buffet style straight from pots on the stove. Have bread baskets, salads and condiments on a counter or on the dining room table. How easy is that?
I love the recipe for hot and sour soup. It's only 6 Weight Watcher Points per cup. You could probably make that even less if you used low-fat chicken broth, used 2 eggs and 2 egg whites, and substituted chicken for pork loin.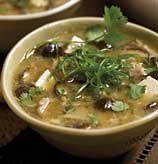 Chinese Hot-and-Sour Soup
Prep and Cook Time: 1 hour, 30 minutes
Yield: Makes about 4 1/2 qts.
Serving size: 1 cup
Notes: The heat from the black pepper in this soup intensifies as it sits. If you plan to make the soup ahead of time or want a milder flavor, use 2 tsp. during cooking; then taste the soup before serving and add more pepper if you like.
Ingredients:
2 pounds pork top loin, cut crosswise into 1/8-in.-thick strips
1/4 cup plus 2 tbsp. soy sauce
2 tablespoons grated peeled fresh ginger
3/4 cup rice vinegar
1/4 cup cornstarch
2 tablespoons sugar
1 teaspoon salt
1/4 cup peanut oil
1 can (8 oz.) sliced bamboo shoots, drained and rinsed
12 cups chicken broth
3/4 pound shiitake mushrooms, thinly sliced
12 ounces firm tofu, drained and cubed
4 large eggs
1/2 teaspoon toasted sesame oil
About 1 tbsp. freshly ground black pepper (see Notes)
Chopped fresh cilantro and sliced green onions (pale green and white parts)
Directions:
In a bowl, toss pork with 1/4 cup soy sauce and ginger. Marinate 20 minutes. In another bowl, stir together remaining 2 tbsp. soy sauce, rice vinegar, cornstarch, sugar, and salt; set aside.
Heat peanut oil in a large pot (at least 5 qts.) over medium-high heat, then add pork and marinade. Cook, stirring constantly, until pork loses its pink color, about 4 minutes. Stir in bamboo shoots and cook 1 minute.
Increase heat to high, add broth, and bring to a boil. Add mushrooms, reduce heat to a simmer, and cook about 20 minutes. Add tofu and simmer 5 minutes. Add soy-vinegar mixture and simmer 5 minutes more; the liquid will thicken.
In a small bowl, beat eggs with sesame oil. Slowly pour eggs into soup in a thin stream while stirring soup very slowly in one direction. Add pepper, stir briefly, then simmer 5 minutes. Serve with cilantro and green onions.
Nutrional Information:
Serving size: 1 cup
CALORIES 244 (66% from fat); FAT 18g (sat 5.7g); PROTEIN 15g; CHOLESTEROL 80mg; SODIUM 890mg; FIBER 0.7g; CARBOHYDRATE 18g
Sunset, JANUARY 2007